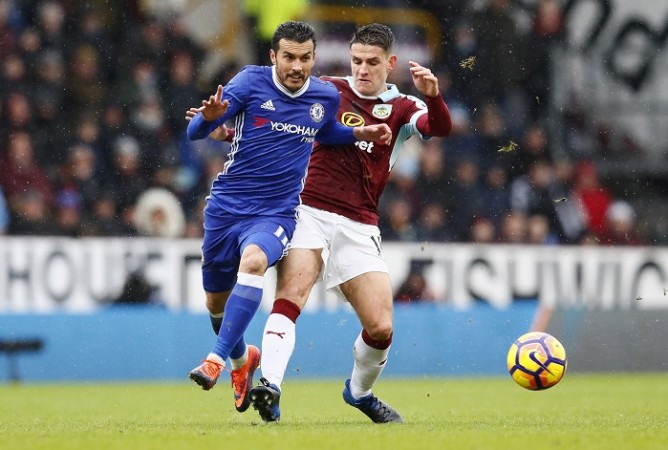 Chelsea might have been the best team in the Premier League this season, but they could not collect maximum points against Burnley at Turf Moor on Sunday. Antonio Conte's men, despite enjoying good possession, could not secure three points as Burnley came up with a determined approach to take one point from the game.
Despite sharing points, Chelsea are still in strong position in the Premier League as the Blues have a 10-point lead at the top. However, this Burnley and Chelsea clash proved to be an exciting affair with both teams playing some entertaining brand of football.
The first real chance of the game fell to Eden Hazard, whose shot was saved by goalkeeper Tom Heaton. But Chelsea did not take much time to break the deadlock as Pedro found the back of the net in the seventh minute. Despite that goal, Burnley, who have been strong, of late, at home, were not giving up, tring to find that space for the equaliser.
Hazard was troubling Burnley players with his dribbling skills and the Belgian was fouled a number of times as well. Chelsea looked a huge threat whenever they had the ball on their feet.
With the home team not giving up, they earned a free-kick in a dangerous area, and Robbie Brady unleashed one of his special left-foot curlers into the right corner to send the crowd into a frenzy. It was a goal of the highest caliber from Brady.
That goal lifted the entire crowd and Burnely players with their quality work rate was looking for the second goal. Despite Chelsea enjoying great possession, Burnley were making their presence felt when they had the ball on their feet. The exciting first half came to an and with the score reading 1-1.
With both teams in search of an equaliser, it was Burnley, who started the second half brightly for a few minutes, and Chelsea manager Conte looked frustrated at the touchline as well.
Burnley players were showing great attitude against Chelsea, who enjoyed a decent spell in the next 20 minutes, but they were not able to show anything for their efforts on goal. Burnley were defending in numbers and were trying to catch Chelsea on the counter.
Chelsea, in search of the winning goal, brought in Cesc Farbegas and Willian in a space of four minutes midway during the second half, but that could also not lead to a goal. With around four minutes left on the clock, Conte threw his last dice in the form of Michy Batshuayi as well.
Conte might have thrown all his attacking options from the bench, but Chelsea, who tried their best in the second half, could not find that winning goal. Hence, the Blues had to be content with a point from the entertaining match.