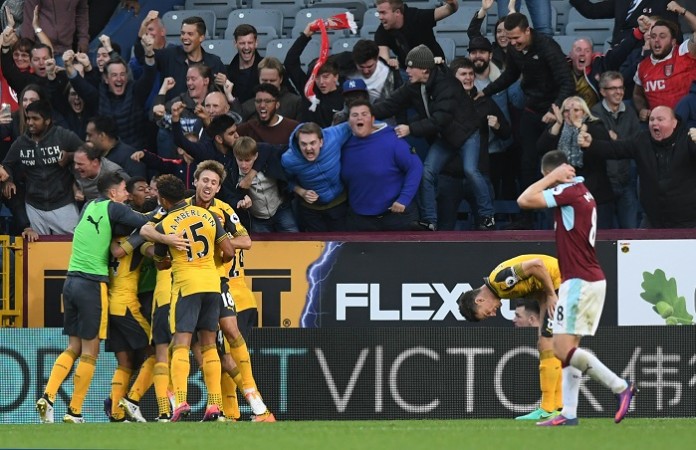 On the day that Arsenal were celebrating Arsene Wenger's 20th anniversary at the club, how ironic that the team he turned from a cloggy, dogged defensive unit into one of the most exciting Premier League sides teams of all time, ended up winning by that iconic scoreline of 1-0 to the Arsenal.
This was not a match without style or substance, though, just one lacking that extra cutting edge as a heavy-legged Arsenal side, who had played Chelsea and Basel out of the pitch in their last two matches, struggled to find their passing rhythm.
With Manchester City dropping points in the earlier game, the pressure was on the Gunners to take advantage against Burnley, but until the 92nd minute, it looked like Wenger's anniversary celebrations will not be highlighted by a win.
However, one final corner of the match, one last cross from Alexis Sanchez, one nice glancing header from Theo Walcott and a clumsy, very-unArsenal-like finish from Laurent Koscielny gave the away team the result they craved and, crucially, all three points.
"It was a big test for us because I think we were motivated, we had the attitude right and our legs were not as dynamic as in recent games," Wenger said. "Our technique as well, we made some technical mistakes. I must say, Burnley made it difficult for us.
"They defended very well, they were very well organised in a very intelligent way and I give the merit to my team.
"It's a big win, because City lost. We were five points behind them and when you are five points behind a top quality team, when you have an opportunity to get a bit closer you cannot miss it. And that would've been the negative aspect of our game had we not won.
"I must say, I am long enough in the job to know that you feel disappointed if you are in Burnley's shoes because they gave absolutely everything and you can understand that they are a bit gutted to lose a game like that because they had put all the effort in to get the result."
Burnley, apart from being disappointed at losing the match right at the end, will also look at the goal and say it should not have stood. When Walcott glanced his header over to the back post towards Koscielny and Alex Oxlade-Chamberlain, the Arsenal defender, while trying to hook the ball in, guided the ball off his boot, onto his elbow and into the back of the net.
There was a lot of luck involved in that goal, but with Wenger's 20th anniversary celebrations and the manner in which Arsenal went on and on in search of the winning goal in the second half, the away side will probably feel it was well-deserved.
Thanks to Tottenham's brilliant win over City, the Premier League table is a whole lot closer now, with just two points separating the top four. Behind City, Spurs, Arsenal and Liverpool are Everton, Manchester United and Chelsea, not too far behind.