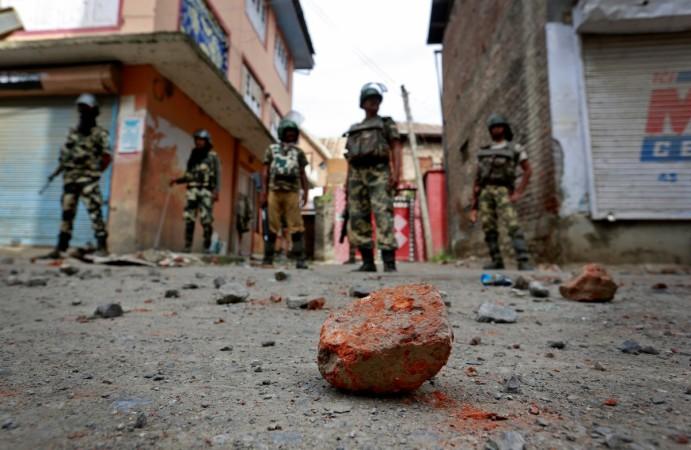 On the eve of the second death anniversary of Hizbul Mujahideen commander Burhan Wani, restrictions have been imposed in various parts of Jammu and Kashmir, including his hometown Tral.
The internet connectivity has also been snapped in South Kashmir after three civilians were killed during clashes with Army in Kulgam district. The violence in the valley has escalated at a time when the annual Amarnath pilgrimage is going on. Even as the J&K Governor NN Vohra reviewed the security of the pilgrims and visited various pilgrim base camps in South Kashmir, official sources told International Business Times India that the situation is being currently watched over by National Security Advisor Ajit Doval as well as Union Home Minister Rajnath Singh.
"It is our responsibility to ensure the safety of Amarnath pilgrims. Keeping in mind the situation here, I appeal them to cooperate with us. Elaborate security arrangements have been made as it is Burhan Wani's death anniversary tomorrow," the Director General of Police, Sheesh Paul Vaid, was quoted by the ANI as saying.
Various separatist leaders, including Syed Ali Shah Geelani, Mirwaiz Umar Farooq and Yasin Malik, have been put under house arrests and were not allowed to offer Friday congregational prayers by the authorities fearing protests and violence.
Meanwhile, Hizbul Mujahideen chief Syed Salahudin has released a video in which he praised Burhan Wani for ushering in a new wave of militancy in Kashmir. He called Burhan as the face of the new wave of militancy in Kashmir.
Salahudin especially referred to the use of social media by Burhan to connect with youth which according to him infused the spirit of fighting against the Indian state among the valley youth.
"Today, we are witnessing a new trend in Kashmir where the highly educated youth including PhD scholars are taking up arms against the Indian regime and we owe this to our slain commander, Burhan Wani," Salahudin said in the video.
Burhan, in one of his last viral videos in 2016 during the onset of the then Amarnath Yatra, had said that the pilgrims will be safe in Kashmir.
However, it is believed that Burhan's death did increase the militant recruitments in the valley and also led to a spike in the militant and civilian casualties.
The eruption of street stone protests on encounter sites has also brewed tension between the security forces and the civilians. Even as the human rights organizations have advocated for the minimal use of force in dealing with the street protests, the Army and security forces have maintained that the firing at the civilians during the intense clashes is sometimes unavoidable.
---