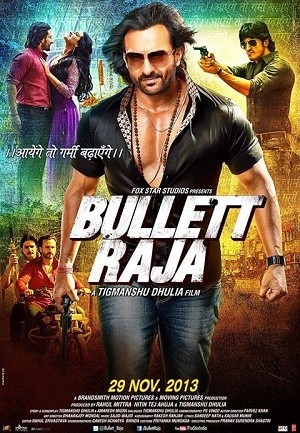 Saif Ali Khan's rustic action flick "Bullett Raja" is the major release this Friday. The Tigmanshu Dhulia directorial dwells on Saif and Jimmy Shergill's rise as gangster lords in the heartland of Uttar Pradesh. The film also stars Sonakshi Sinha who plays Saif's love interest.
"Bullett Raja" has warmed up to mixed reviews upon its release. While some critics have lauded the action centric treatment and adequate punch lines in the film, others have opined it a waste of Dhulia's talent. [READ: "Bullet Raja" Box Office Collection]
Here's a look at some of the critics' reviews:
Taran Adarsh, Bollywood Hungama (4/5) writes;
"BULLETT RAJA takes you back to the cinema of yore. A commoner revolts against the system and sets his own rules, shaking the law makers and entrepreneurs in the process...It's raw, unrefined and harsh, much like Tigmanshu's earlier endeavors. Sure, the protagonist may bring back memories of the characters we've watched over and over again on the big screen, but the fact remains that everything happens for a legitimate, justifiable reason here. Notwithstanding the oft-repeated premise, the screenplay has ample twists and turns and leaves you wondering, what's gonna happen next?
On the whole, BULLETT RAJA is Tigmanshu Dhulia's most 'commercial', mass appealing film thus far... Enjoyable, engaging and extremely distinctive, BULLETT RAJA is not to be missed!"
Srijana Mitra Das, Times of India (3.5/5) writes;
"Straight up, Bullett Raja (BR) is zany and funny, an Uttar Pradesh take on Sholay's Jai and Veeru, 'twice-born' in Lucknow as Raja Mishra (Khan) and Rudra Pratap (Shergill).
BR scores with its tight performances, Saif terrific with his clenched-jaw comedy, Shergill intense and growlingly funny, Jamwal's flying kicks and wavy hair making the landscape even hotter. Sonakshi's pleasant if unsurprising...
Where the film misses a bulls-eye is an excess 20 minutes, music that, despite Tamanche Pe Disco, remains average...Still, BR is a racy ride, cynical, yet sweet, dark, yet bright. Go watch - you'll enjoy those bangs in the dark."
Faheem Ruhani, India Today (3.5/5) writes;
Bullet Raja attempts to reach out to large numbers just like the 100-crore earners. Yet, in its quest to grab more eyeballs director Tigmanshu Dhulia's film does not sacrifice a certain essence that you have come to associate with his recent films (Saheb Biwi Aur Gangster, Paan Singh Tomar, Saheb Biwi Aur Gangster Returns).The result is a des-chic, guns and gore affair, set against the backdrop of conniving UP politics and mafia.
Bullet Raja's slogan claims 'aayenge toh garmi badyaenge.' To the film's credit it delivers what it promises."
Mohar Basu, Koimoi.com, (2/5) writes:
"It wouldn't be a terrible thing if you miss Bullett Raja. To begin with, it was a pointless film that destroyed its gutsy premise to tatters. Attempting to strike a balance between over-the-top and ridiculous, this one is hands down Dhulia's most immature attempt at filmmaking. From the man who made Paan Sigh Tomar filled with deft touches, Bullett Raja is a grotesque misfire.
An overtly ambitious project, Tigmanshu Dhulia tries to bring aesthetic taste to mainstream commercial cinema with this film. But the film fails to turn into a defining work due to its predictable storyline. Both the film's music and editing were shabby.
Saif Ali Khan has proved his mettle for such roles in Omkara but Raja Misra doesn't even near the intensity of Langda Tyagi. Sonakshi Sinha plays the same role she has been playing every film ever since she entered the industry. Jimmy Shergill is an absolute show stealer."
Deepanjana Pal, Firstpost writes;
"Much like that childhood sport, "Bullett Raja" doesn't make much sense... It's difficult to decide what is the most disappointing aspect of "Bullett Raja". Is it that Dhulia, who won such acclaim for his small-budget films, has botched up so comprehensively with this wannabe blockbuster? Could it be the soundtrack that is a thumping, tuneless cacophony? Or is it the lazy writing that can't be bothered with either building characters or a coherent storyline?"