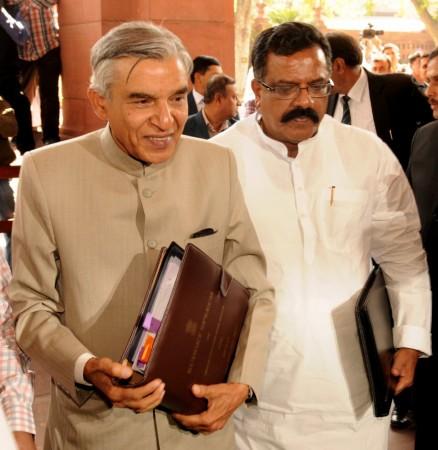 The Parliament Budget session began on Thursday with President Pranab Mukherjee addressing both the houses in his hour-long speech on issues ranging from slow economic growth to crimes against women.
The Congress-led UPA government has a long list of bills to be passed in the ongoing session, but it won't be easy as the opposition could bring the government to task with scams like the multi-crore chopper deal denting its image.
The Bharatiya Janata Party (BJP) had earlier threatened to protest against Home Minister Sushilkumar Shinde over his 'Hindu terror' remarks. This problem is now solved after the latter expressed regret for the statement.
Prime Minister Manmohan Singh said that he is looking forward to a constructive session in parliament and expects cooperation from everyone.
"Ladies and gentlemen, we are looking forward a very productive, constructive session of Parliament. That is what our country's people expect Parliament to do. We are meeting against the background of global slowdown of economic activity which has also affected us," he said.
"We look forward to the cooperation of all sections of the House. On our part, we wish to engage constructively, productively with all sections of the House in the expectation that there would be responsible dialogue, debate among members of Parliament," he added.
The Budget Session of Parliament 2013 highlights
The Railway Budget will be presented on 26 February while the Economic Survey of India will be tabled before the parliament the next day. The General Budget for the year 2013-14 will be presented on 28 February at 11:00 am.
List of Important Bills Expected To Be Passed at Budget Session:
There is a long list of bills the government wants to pass in the budget session. Of the total 71 bills to be introduced before the parliament, here are some of the important ones:
1) The Criminal Law (Amendment) Bill, 2013
2) Land Acquisition Bill
3) Whistle Blowers' Protection Bill
4) Lokpal and Lokayuktas Bill 2011
5) National Food Security Bill
6) Educational Tribunals Bill
7) Bill to make provision for quota in promotions for SC, ST
8) Finance Bill, 2013
9) Women's Reservation Bill
10) Sexual Harassment of Women at Work Place Bill
11) Prevention of Bribery of Foreign Public Officials and Officials of Public International Organizations Bill
12) Right to Grievance Redress Bill