The Narendra Modi government is keen on rationalising tax structure and is attempting to make budgetary proposals more transparent to ensure there is no concealed fiscal deficit in the forthcoming Budget 2015, said finance minister Arun Jaitley.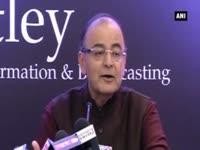 The Expenditure Management Commission, headed by former RBI governor Bimal Jalan, has presented its findings to the government, recommending action on the subsidy front, including oil and fertilizers, he noted.
Jaitley reiterated his earlier call to boost public spending on infrastructure, hinting that other centrally-sponsored schemes could face the axe.
"The government is working on transparent budgetary proposals and we have no idea on presenting any concealed fiscal deficit," he remarked. The statement needs to be understood in the context of the erstwhile UPA government rolling over substantial parts of oil, fertiliser and food subsidy payments.
Jaitley expressed concern that the current public-private partnership model is not serving the purpose and called for reviving the programme. With the government's coffers not in a position to afford continuous investments, there was a pressing need to invite funds from not only foreign and private entities, but also from the public. "In the coming months the focus will be on more investments, manufacturing and infrastructure," he added.
Axing of certain centrally-sponsored schemes would result in the states having more funds to design and deploy their own welfare schemes, read The Indian Express.
On housing and infrastructure spending, Jaitley said that the government is looking at improving Tier II and III cities with necessary road infrastructure and industrial corridors that would also help benefit the farmers; adding, "The government is also fully committed to develop affordable housing and is working at reviving both these sectors in a big way."