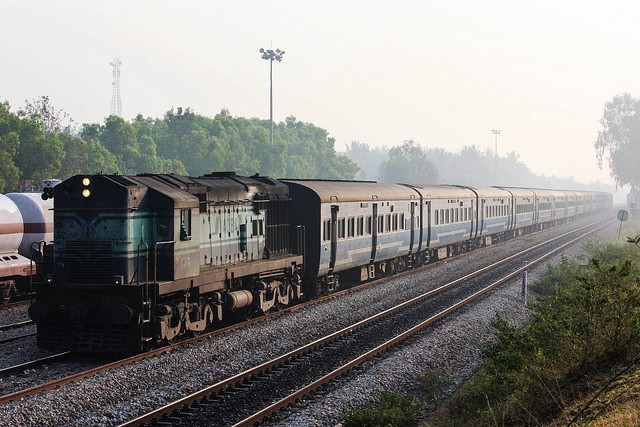 Railways Minister Suresh Prabhu on Sunday announced the inauguration of a new railway terminus in Kalyan for long distance trains. In addition, Prabhu said a new superfast train from Mumbai to Goa and an all-AC Humsafar train with modern amenities will be launched shortly.
Speaking to the media during a function to flag off a new train from Bandra (Mumbai) to Gorakhpur, Prabhu has also promised Rs 40,000 crore for city projects to develop and strengthen the rail network and provide more facilities to ensure speedy transit. These projects could include the Bandra-Virar and CST-Panvel elevated corridor, which was formulated by the Mumbai Metropolitan Region Development Authority, the Times of India reported.
Additionally, Prabhu also launched other facilities and train services for commuters on Sunday.
Superfast train to Goa
The railway minister said for those people who want to travel from Maharashtra to Goa, the new superfast Tejas will be expected early next year. The train would be faster than Jan Shatabdi. "For those heading to Konkan or Goa, a superfast Tejas train will soon ensure your reach your destination in the fastest possible time," Prabhu said.
The Tejas would travel at a speed faster than 120 kmph. It would also offer other services such as local cuisine and Wi-Fi.
Humsafar Express
The Humsafar train will start from Mumbai and is expected to reach various destinations in north India. It will include 16 AC III tier coaches and two power cars. It's being targeted at the middle-class passengers.
Some of the amenities it reportedly includes are CCTV, global positioning system (GPS)-based passenger information, mobile and laptop charging points, a smoke detection unit and superior quality exterior and interior design.
Separate agency for fare changes
In other news, the ministry of railways will soon seek the Cabinet approval for setting up an independent agency to recommend passenger and freight fares. According to a report in the Economic Times, the railways has been losing out Rs 33,000 crore every year on passenger subsidies. Once this proposal is approved by the Cabinet, it would be the second most important step in reforming the railways.