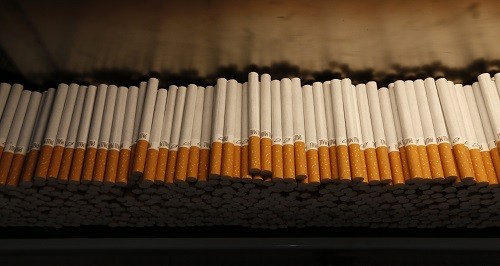 Finance Minister Arun Jaitley's budget speech signalled an increase in several items and services in the coming financial year, such as cars and air travel, while buying your first home and several products such as footwear and sanitary napkins are set to be cheaper.
Jaitley announced the Krishi Kalyan Cess that will be levied on all taxable services to finance and promote initiatives to improve agriculture from June, which will lead to higher costs of eating out at restaurants or air travel.
Electronic items such as mobile phones and computers are also set to get expensive.
Here is a list of items and services that will become expensive and those that will be cheaper —
Items that will be more expensive:
Cars, SUVs: Citing pollution in Indian cities as a grave problem, Jaitley announced an infrastructure cess of 1 percent on small petrol and CNG cars, 2.5 percent on diesel cars, and 4 percent on other higher engine capacity vehicles and SUVs.. Thus, prices of cars and utility vehicles are set to increase.
Cigarettes: Cigarette and tobacco products will become costlier with the hike in excise duty by 10 to 15 percent.
"To discourage consumption of tobacco and tobacco products, I propose to increase the excise duties on various tobacco products other than beedi by about 10 to 15 percent," Jaitely said.
Jewellery: Jaitley announced an excise duty of "1 percent without input tax credit or 12.5 percent with input tax credit" on articles of jewellery.
Branded apparel: Jaitley raised the the excise duty on branded ready-made garments and textile articles with a retail sale price of Rs 1,000 and above from to "2 percent without input tax credit or 12.5 percent with input tax credit."
Eating out, air travel: With the Krishi Kalyan Cess, you will have to shell out more for eating out at restaurants as well as for air travel.
Computers and mobile phones: The government announced the withdrawal of exemption of Special Additional Duty on printed circuit boards of mobile phones and computers, thus signalling an increase in prices of these electronic products.
Jaitley also withdrew the exemption from basic customs duty on charger and adapter, battery and wired headsets for manufacture of mobile phones.
What will be cheaper:
Buying the first home: Jaitley announced a deduction for additional interest of Rs 50,000 per annum for loans up to Rs 35 lakh for first-time home buyers, provided the value of the house does not exceed Rs. 50 lakh.
Insurance schemes: The finance minister announced a reduction in service tax on Single premium Annuity (Insurance) Policies from 3.5 percent to 1.4 percent of the premium paid in certain cases.
Footwear: The excise duty on rubber sheets and resin rubber sheets for soles and heels has been reduced from 12.5 percent to 6 percent.
Sanitary napkins: The basic customs duty for super absorbent polymer and wood pulp used for manufacture of sanitary pads, napkins and tampons being extended has been reduced.
Hybrid electric vehicles: Concessions on excise duty for engines of hybrid electric vehicles were announced.