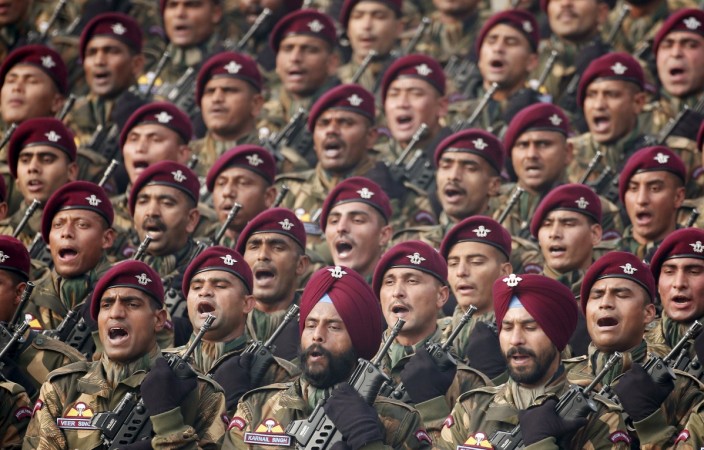 The Narendra Modi government is likely to increase the defence budget by 9 percent to Rs 2.68 lakh crore for the next fiscal year. The pension bill of ex-defence personnel alone is expected to increase by more than Rs 80, 000 crore in 2016-2017.
The defence ministry is expected to show a shortfall of Rs 12,400 crore, or 16 percent of the Rs 77,406 crore in spending over acquisitions in the current fiscal year. It may "surrender" that amount under the capital head as the three defence service headquarters could not clear the projects before deadline, officials told The Economic Times.
The budget allocation for defence will rise nearly 13 percent to Rs 3.5 lakh crore from Rs 3.1 lakh crore last year, if pension and civil expenses of the ministry are also included.
Pension payments for ex-servicemen will rise sharply in the next fiscal year as a result of implementation of the one rank one pension (OROP) scheme.
Earlier this month, Finance Minister Arun Jaitley had said that funds worth Rs 1.10 lakh crore have to be included in the upcoming budget for the implementation of the OROP and 7th Pay Commission recommendations.
The implementation of the OROP will rise the pension bill of defence to Rs 65,000 crore in 2016-2017, up from Rs 54,000 last year, a government official said Feb.3.
In budget 2015, Rs 77,406 crore was allocated to the defence ministry to acquire weapon systems for the three forces. But the defence forces have not met their targets set for this year in a few cases, leading to deficit in spending.
"In some cases, deliveries or milestones could not be ensured on time by the departments. This has resulted in some funds for committed liabilities also lapsing," a senior official told the daily on condition of anonymity.