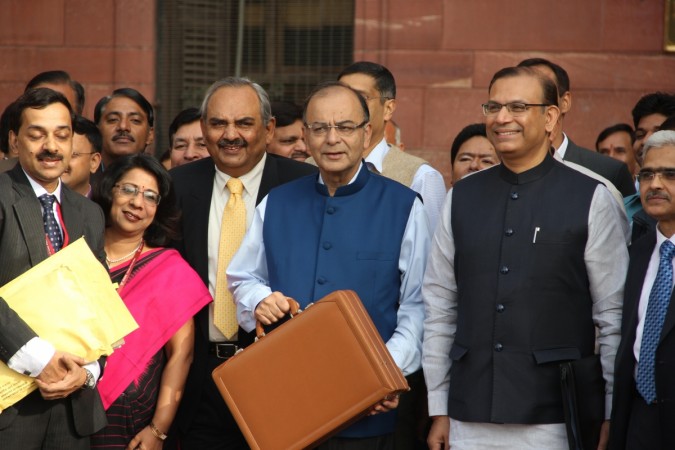 Contrary to expectations, Finance Minister Arun Jaitley's Budget 2015 did not announce any changes in the income tax slabs. However, the minister raised the total exemptions for individual taxpayers to Rs 4,44,200.
The proposed changes in the direct tax regime would incur a loss of Rs 8,315 crore, the FM said. New indirect tax proposals will bring in Rs.23,383 crore, Jaitley said.
12:28 PM: Extension of benefits for the middle class tax payers announced.
12:20 PM: Will abolish wealth tax; the rich have to pay more tax than the less affluent people.
12:12 PM: New law to bring back black money from foreign countries.
12:10 PM: Will reduce corporate tax from 30% to 25%.
12:05 PM: GST will reduce the cascading effect of our goods and services.
12:05 PM: 'Make in India' also aimed at our defence equipment including aircraft.
11:57 AM: Will make sure that no student misses out on higher education for lack of funds.
11:53 AM: Committed to make our development as green as possible.
11:50 AM: Will move towards making India a cashless society.
11.28 AM: Measures needed to monetise gold stocks of 20,000 tonnes.
-Introduce a gold monetization scheme
-Earn interest in metal account
-Banks and dealers are able to monetise
-Sovereign gold bond
-Indian gold coin
11.45 AM: Financial market reforms:
--Aim to create world class equity market
-- Measures to reduce wild speculation
-- Capital accounts controls – propose amend FEMA
-- Sector neutral financial grievance reddressal agency
--Introduce Indian financial code in parliament
11:42 AM: The government plans to set up five ultra mega power projects.
11:40 AM: We aim to improve ease of doing business.
-- Expert committee will prepare a draft legislation on creating a pre-existing regulatory mechanism that will replace multiple regulatory processes in setting up business.
11:38 AM: All aspects of start-up businesses and self-employment opportunities will be addressed.
11:35 AM: Tax free infrastructure bonds for rail and road.
11.31 AM: Soon to be launched plan to offer 2 lakh rupees accident cover for 12 rupees premium a year
-- Propose to create Senior citizens' welfare fund
11:30 AM: Mudra Bank: Lending priority will be given to SC/ST candidates.
A large portion of India is without insurance of any kind.
A universal social security system Pradhan Mantri Surakha Yojna will be started.
11.25- Government committed to increase people's access to banking and funds.

11:24 AM: Helping farmers: Improving soil fertility, aimed at irrigating the field of every farmer.
11.23 AM: Subsidies are needed for the poor. We need a well targeted system for subsidies delivery.
-- We need to rationalise subsidy not eliminate it.
11: 21 AM: Considerable scaling up of the disinvestment figures.
11. 20 AM: We will meet challenging fiscal deficit target of 4.1 percent which we inherited says Jaitley
11:16 AM: Jobs for the young people who make up 35 percent of population. With 'Make in India', youth will turn from job seekers to job creators.
-- The eastern parts of the country will be economically integrated to the rest of the country.
-- Fiscal discipline in spite of rising demand of public investment
-- 42 percent of tax revenue to be shared with states.
11:15 AM: We have to make India the manufacturing hub of the world.
11:13 AM: Each house in India should have basic facilities, says Finance Minister.
11.06 AM: Double digit growth to kick in soon; ''we think in terms of a quantum jump'.

11.06 AM: Jaitley hints at further easing of monetary policy this year as inflation seen around 5%.

11:05 AM: Jaitley says that the Budget aims to benefit the common man, women and children.
11:01 AM: Arun Jaitley starts the 2015 Union Budget.
11 AM: Indian markets up ahead of Finance Minister's speech: Sensex up 0.7% at 29433.89 and the Nifty is up 0.6% at 8900.45.
10:20 AM: Prime Minister Narendra Modi arrives in Parliament.
10:15 AM: Cabinet meeting under way.
10 AM: If the Budget is pro-poor that does not mean it has to be anti-rich, says BJP spokesperson Nalin Kohli.
9:35 AM: Arun Jaitley makes his way to the parliament.
9:26 AM: Union cabinet to meet ahead of the Budget.
9:25 AM: Sensex opens at over 200 points.
Where To Watch Budget 2015 Live Online
9:20 AM: Nothing has changed on the ground as far as doing business is concerned, says Congress spokesman Sanjay Jha.
9:15 AM: Arun Jaitley meets President Pranab Mukherjee at Rashtrapati Bhavan.
9 AM: Arun Jaitley reaches Finance Ministry two hours ahead of the Union Budget.
We will wait for the #Budget2015 and ask very pointed questions: Anand Sharma (Congress) pic.twitter.com/xtpera3Jzi

— ANI (@ANI_news) February 27, 2015