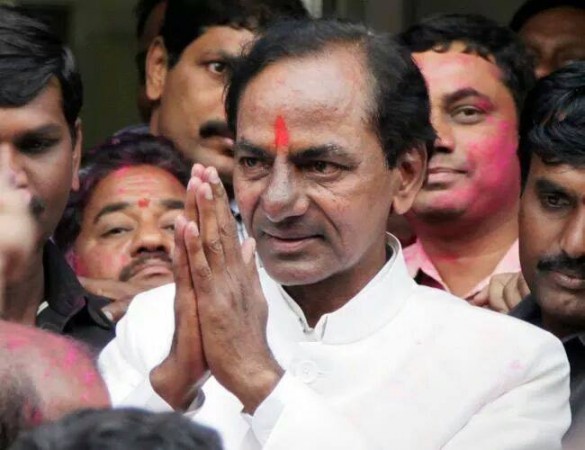 Telangana Chief Minister K Chandrasekhar Rao (KCR) has fumed over the Centre's decision to "ignore" the state, while sanctioning developmental projects and allocationg funds in the Union Budget 2014, presented by Finance Minister Arun Jaitley on Thursday.
Jaitley announced a horticulture university for Telangana in his maiden budget but assured to fulfill all other promises made to the state during the last elections.
But KCR and leaders of Telangana Rashtra Samiti (TRS) insist that the Budget has allocated more educational institutes and other developmental projects to the neighbouring Andhra Pradesh. KCR said that except the Horticulture University, no other project was allocated to Telangana.
"The Horticulture University sanction was also mentioned in the state Reorganisation Bill, it's not a new thing. The Union Budget simply mentioned that the commitments of the Reorganisation Act would be fulfilled but no specific mention has been made," Deccan Chronicle quoted KCR.
TRS leaders, including its MPs, had demanded the Centre to give special category status to Telangana on the lines of Andhra Pradesh. They had cited that eight districts out of the state's 10 have been identified as backward by the Union government. Hence, TRS leaders have demanded developmental projects and fund allocations from the Centre, on par with AP.
Criticising the Centre for the megre allocation of projects in the Union Budget, TRS secretary general and Rajya Sabha member K Kesava Rao said that the government has ignored Telangana.
The Union government has showed utter contempt towards Telangana, said TRS MP Kadiam Srihari, while comparing the projects allocated to Andhra Pradesh.
Injustice has been done to Telangana by the Centre both in the Railway as well as the Union Budget, TRS leader and MP AP Jitender Reddy, said. He said the Narendra Modi government has totally ignored the backward state of Telangana and added that the projects, which should have come to Telangana, have been given to AP.
KCR's daughter and TRS MP Kavitha has also expressed displeasure over the Centre's failure to give moral support to the new state and its people.
"We expected moral support from the Modi government, but it has totally ignored the needs of Telangana. This kind of bias is uncalled for. The Centre should have provided equal justice to Telangana and Andhra Pradesh," she added.
She accused Union Urban Development Minister M Venkaiah Naidu and AP Chief Minister Chandrababu Naidu of blocking Centre's developmental projects and funds to Telangana.
Kavita said that the Naidu duo cannot play such games for a long time as their attempts will not succeed in the long run.
"Support or no support, development in Telangana cannot be curtailed. The development will go on. We will fight for schemes and funds with the central government departments," the MP said.