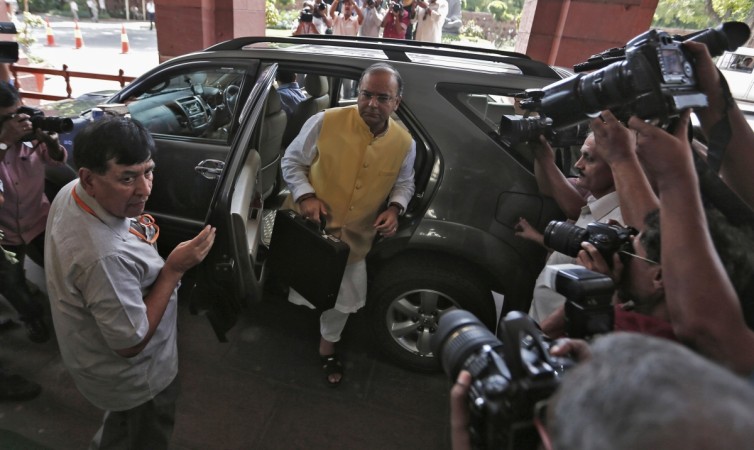 Even as everyone's discussing the pros and cons of the Union Budget that Finance Minister Arun Jaitley presented on Thursday, there were several interesting points and facts that stood out. Here's a list:
First Modi Budget: This was the first Union budget of the Modi government that took to office on 26 May.
Longest Budget Speech: Jaitley's budget speech is said to have been longer than his predecessors such as UPA government's Finance Ministers P Chidambaram and Pranab Mukherjee, Zee News reported. While Mukherjee's budget was regarded as the longest so far with 36 pages, Jaitley trumped him with a 44-page-long speech written in about 16,299 words. Jaitley's two-hour speech is also said to be one of the longest budget speeches.
Unprecedented Break: When Jaitley took a five-minute break between 11:45 and 11:50 during the Budget presentation, he became the first Finance Minister to do so. He had cited a back problem, and continued the rest of his speech while sitting.
Applause and Disruptions: Finance Minister Jaitley was applauded 119 times by the House, but also had to face disruption in the House 13 times during his speech, Zee News reported.
Most used words: "Development" seemed to be on the top of Jaitley's mind, when he presented the Budget, as he used the word 55 times, followed by the term "infrastructure" that he said 33 times. He is said to have used Hindi words only 15 times in his two-hour-long speech.
Yellow, colour of the day: The minister and his entire family who was present to watch him present the Budget, were dressed in yellow, which is astrologically believed to be the colour of the day on Thursdays, the New Indian Express reported.
29 '100 crore' schemes: Jaitley seemed to have started a '100 crore' club in the Parliament on Thursday, when he announced 29 major projects with allotments of ₹100 crores each. He allotted ₹100 crore for projects including the National Adaptation Fund to fight climate change, for the modernisation of madrassas and for the "Beti Bachao, Beti Padhao Yojana", a scheme for the girl child.
No Chief Economic Advisor: This was the first time in nearly two decades that the Economic Survey that lays the roadmap for the Union budget was presented in the absence of a chief economic advisor to the government. The post has been vacant since last year ever since Raghuram Rajan was appointed as the RBI Governor.