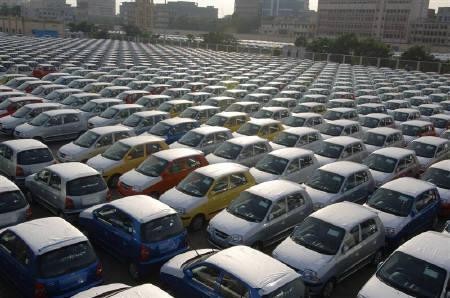 Finance Minister P Chidambaram's budget proposal to increase tax on Sports Utility Vehicles (SUVs), imported luxury cars and imported bikes has heightened worries in the domestic auto industry, which is already faced with declined growth and sentimental skid.
Among the slew of proposals for the auto sector was the additional levy of three percent on SUVs, taking the excise duty to 30 percent. This essentially means that the cars in India will become costlier by ₹35,000 to over ₹1 lakh, reported The Indian Express.
Vehicles which are registered as taxies do not have to bear this additional taxation, and the same applies to SUVs with less than four metres in length and with the engine capacity less than 1.5-litre.The additional tax is likely to hit several popular selling SUVs like Mahindra XUV500, Innova, Scorpio, Renault Duster and Toyota Fortuner.
"The automobile industry is a significant contributor to India's economy and future growth potential. We are disappointed that there is very little in the Budget that will help boost consumer confidence and revive growth. It is a missed opportunity to introduce measures that would have revived industrial growth significantly. As we all know, the automotive industry has been going through very challenging times. We are disappointed with the hike in the excise duty on SUVs," said Joginder Singh, president and managing director, Ford India.
Additionally, the budget also proposed a 25 percent hike in custom duties of imported luxury cars, taking the current 75 percent to 100 percent. This will mostly affect global players like BMW, Mercedes-Benz and Audi who roll out a significant number of high-end luxury cars every year.
"The 100% import duty on luxury cars will send out a bad signal to the international market. Instead, it should have come down to zero in the next few years. Most new products in the market start out as imports and some breathing space is required. Now, it would be prohibitive to introduce new models. The 15% investment allowance given on high-value investments of over R100 crore would be good for companies that are in the investment mode," said Suhas Kadlaskar, director, corporate affairs & human resources, Mercedes Benz India.
The rise in duty is likely to leave a negative impact on the domestic auto industry, which is already dogged down by fuel price and currency flux, and a subsequent hike in vehicle prices may come in effect. Among the manufacturers, Renault is likely to come up with an increase in price of its Duster Compact SUV, soon.
Michael Perschke, head, Audi India also expressed disappointment over the additional tax on vehicles.
"Increase in customs duty for imported cars and excise duty on SUVs is very surprising. It will severely impact the auto industry and its growth. We will have to seriously evaluate the impact of this hike on our prices and have no choice other than to pass on the increase to the customer. Overall, it will have an adverse impact on the automobile industry, which is already going through a slowdown and will specifically affect demand including that of SUVs," Perschke tweeted.