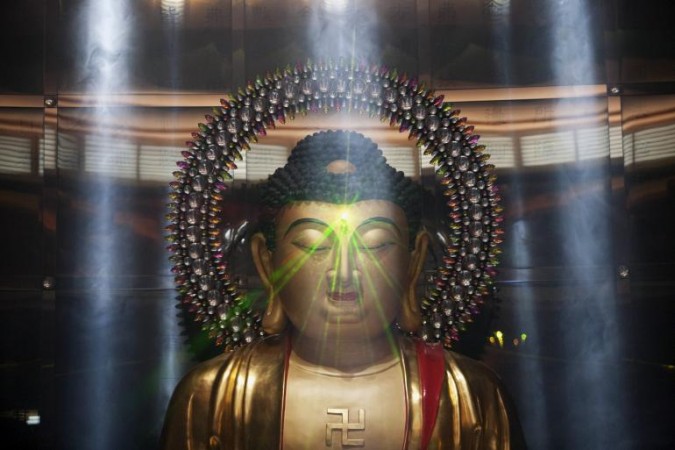 A New Zealander has been sentenced to two years and six months in prison by a court in Myanmar for publishing an 'insulting' poster, which showed Buddha with headphones.
Philip Blackwood, the manager of VGastro Bar in Yangon, was arrested in December along with the Burmese owner of the night club and a co-worker.
On Tuesday, the Myanmar court found Blackwood, 32, guilty of insulting religion in Myanmar. He, along with the two Burmese nationals -- Tun Thurein and Htut Ko Ko Lwin -- have been given two years of hard labor for insulting religion and six months for disobeying an order from a public servant, The Washington Post reported.
Blackwood reportedly will be serving his sentence at the notorious Insein prison.
The Buddha with headphones poster, which was posted in December last year, sparked angry reactions from locals. Many Burmese social media users criticised the bar management.
"This is insulting Myanmar, Buddhism and 500 millions Buddhists around the globe," said Facebook user Htet Naing Win in response to the bar's post. It should be noted that her comment was in the most tempered tone compared to others, who posted on the club's Facebook page.
The posters of headphone-wearing Buddha were posted on the Facebook page of the night club and following the criticism, the page admin apologised and took down the posters.
However, Burmese authorities swiftly shut down the bar and arrested Blackwood and two Burmese nationals.
Since when is it okay to use the name "Buddha Bar" and put a headphone on a Buddha's image? #Yangon #Myanmar pic.twitter.com/KsVr8PvDCy

— madyjune (@madyjune) December 10, 2014
The arrest of the New Zealander, however, was severely criticised by both Human Rights Watch and Amnesty International. The rights group noted that Blackwood's prosecution showed that the Burmese government was backtracking giving hardline nationalist monks more power over law and politics in the country.