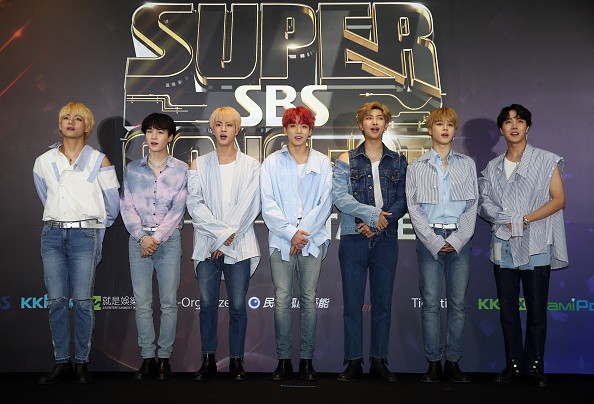 BTS's Jungkook broke down on stage after a heel injury left him unable to dance. The 21-year-old artist, along with his band members - J-Hope, Jimin, Jin, RM, Suga, and v, made their stage debut in the UK at London's O2 Arena on 9 October.
Ahead of the concert, BTS's management company Big Hit Entertainment released the following statement telling fans Jungkook's performance may be affected. It said: "Ladies and gentlemen, we regret to announce that an issue has occurred that may affect the performance of one of the members of BTS scheduled to appear tonight, Jungkook,."
"Approximately two hours ago, following the rehearsal and sound check, Jungkook was lightly stretching in the waiting room when he collided with floor furnishings and suffered an injury to his heel," the statement continued.
"Medical staff immediately responded and performed the necessary treatment. The opinion of the medical team is that while the injury is not serious, performing choreography may do further damage to the injured area," the note stated.
During the band's performance, Jungkook sat on a stool to the side of the stage and was spotted crying as he could not join his bandmates. However, BTS members made sure to console him.
After their performance, each member thanked the fans for the support. RM said: "We have waited for today for like, years! When we first heard about breaking the UK charts, it was so amazing and surprising because the the UK chart is so well respected."
"You have the greatest musicians in your country, and in this city, so we feel so grateful for that. We'll never take it for granted. Thank you so much. We love you London!" he added.
The influential idol group has legions of fans in and outside Korea, especially on social media. The group has released six albums, four compilation albums, five EPs and 22 singles since their debut in 2013. Adding on, they are also the first K-pop act to reach No 1 on the US Billboard 200 with their album, Love Yourself: Tear.