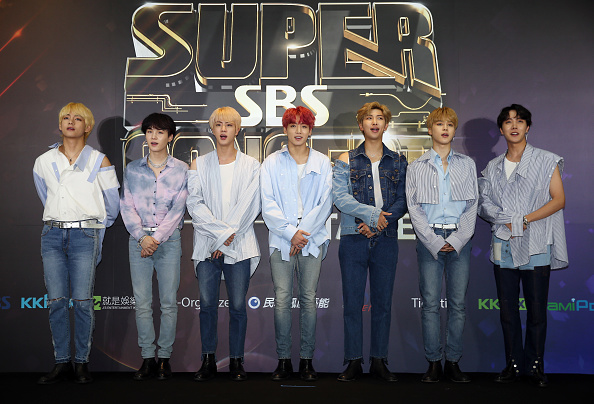 BTS has been making history in the past from their show at Newark to its emotional speech at the UN. With the high voltage performance, the boy band successfully speared into the US market and vaulted to their highest stardom. The K-Pop band has ventured where no other Korean band has neared with several chart records and hits.
The enthusiasm for the concert began visibly in the stadium from Friday afternoon for the sold-out show with nearly 1500 fans camping in the parking lot of the venue. Before embarking on their performance, the band's head RM issued a statutory warning requesting the fans to be mindful of the safety of their neighbours.
The show started to the concert hall filled with screams and feverish rhythmic movement of the handheld LED bulbs moving in harmony to the music. The boys, clad in black marching-style jackets, began the concert with the latest hit number "Idol" from Love Yourself: Answer. The jubilant crew expressed their joy of performing in NY emphasising on their theme to "Speak Yourself" and urging the fans to express themselves freely.
The three-hour concert beautifully bridged the past and present by playing previous hits and latest songs from the Answer album. It was a smooth walk down memory lane for the ardent followers of BTS and their journey to Billboard No.1. All-time hits like "Save Me", "I Need U", "I'm Fine" and "Run" saw the crowd cheering with feverish frenzy.
The stadium reached a deafening pinnacle as each band members showcased their distinct charm and talents. Rapper J-Hope, Suga and RM enthralled the crowd with their hip-hop trivia: "Just Dance", "Seesaw" and "Love". This was followed by Jungkook's breezy "Euphoria", V's "Singularity", Jimin's "Serendipity" and Jin's "Epiphany" which seem to have transported the fans to a trance.
The stage with its sober setting turned to an array of rainbow colours with the rapper trio's encore and the grand finale being "Love Myself" anthem spreading the band's message concluding their US tour with grandeur.
The fact that the majority of the songs played during the concert were in Korean, did not mar the enthusiasm of the fans. The same frenzy is anticipated for the boy band's upcoming Europe trip from October 20, as part of its ongoing world tour.