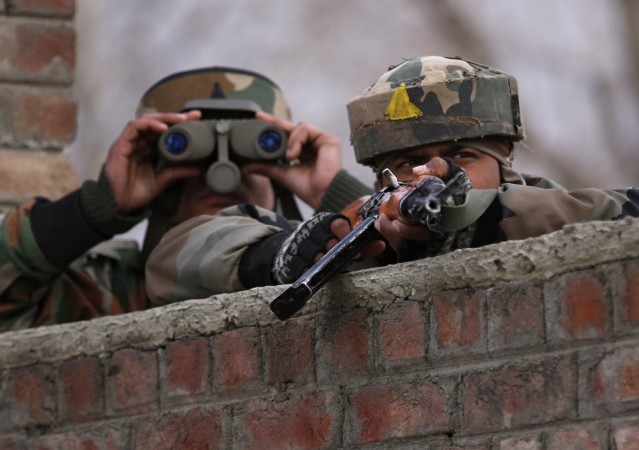 An assistant sub inspector (ASI) of the Border Security Force (BSF) sustained injuries as Pakistan Rangers resorted to small arms fire and mortar shelling at the RS Pura and Arnia sectors in Jammu and Kashmir on Wednesday. Pakistan has violated ceasefire over 30 times since the Indian Army carried out surgical strikes across the Line of Control on the night of September 28.
The injured ASI was identified as AK Upadyay. Along with the BSF soldier, 11 civilians have been injured in firing by Pakistan in the last 24 hours. A BSF soldier and a six-year-old boy died while around two dozen people, including three BSF soldiers, were injured in the shelling and firing by the neighbouring country.
Firing in RS Pura sector has been going on for five days while ceasefire violation in Arnia took place in the early hours of Wednesday. Firing is still on in Sai Kalan, Bure Jaal and Treva.
"The Pakistani Rangers are targeting us even in our homes, what to speak of working in the fields which are closer to the borders,'' local resident Gurinderjeet Singh from Treva told the Indian Express.
The BSF has been retaliating to the ceasefire violations and mortar shelling appropriately and has also caused damages to the Pakistani side.
Villagers have been asked not to leave their homes during the mortar shelling but they are worried about the harvesting of the standing paddy crop.
#SpotVisuals J&K: Ceasefire violation by Pakistan in RS Pura sector pic.twitter.com/VOqB0PDyCr

— ANI (@ANI_news) October 26, 2016
#SpotVisuals J&K: Ceasefire violation by Pakistan in RS Pura sector pic.twitter.com/4ovWcIPrhP — ANI (@ANI_news) October 26, 2016