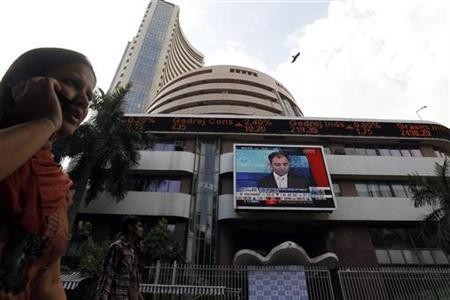 The BSE Sensex posts its third consecutive daily gain on Monday after State Bank of India boosted the outlook of the stock market with its impressive earning last week. However, rupee hits a new record low at 55 per dollar, which could affect the stocks.
The BSE Sensex provisionally ended up 0.2 percent at 16,183.26 points, though the index is still down 6.5 percent for the month. The broader 50-share Nifty added 0.3 percent to 4,906.05 points.
Adding to its 5 percent gain on Friday, State Bank of India rose 3.6 percent, as its good earnings attracted investors. ICICI Bank also ended up 0.7 percent.
Reliance Capital shares surged 8 percent and shares of broadcast player TV Today Network jumped by 20 percent.
However, India's NSE consumer goods sub-index fell 1.4 percent. Shares of ITC were down by 2 percent and Hindustan Unilever lost 1.4 percent. Shares of IT company Infosys also fell 1.8 percent.
Rupee Hits Record Low
The rupee hit a new low against the dollar on Monday over market concerns due to political uncertainty in Greece which casts doubts on eurozone. It has declined 12.2 percent since its rise in February. Monday witnessed rupee hitting a new record low at 55 per dollar.
The partially convertible rupee was at 54.96/97 per dollar at 4:26 p.m. (1056 GMT). The rupee hit an all time low of 55 per dollar earlier in the day. The fall on Monday is the rupee's fourth consecutive low recorded, and is a drop of one percent from 54.42/44 close on Friday.
The fall of rupee indicates growing worries on India's economic outlook. Morgan Stanley had cut India's 2012 economic growth forecast to 6.3 percent from its earlier 6.9 percent.
"Rupee is the lead indicator for the market as well as the economy at this point, if rupee weakens more it can unnerve some more positions in the market," Reuters quoted Paras Adenwala, chief investment officer of Capital Portfolio Advisors, as saying.
Sources said that the Reserve Bank of India (RBI) has not intervened in spite of the market taking a sharp fall.
(With Inputs from Reuters)