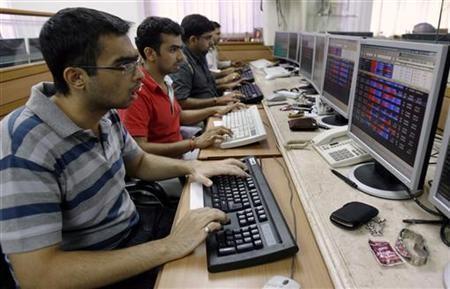 The BSE Sensex fell for a second session in a row on Thursday, as the investors get cautious after the rating agency Standard & Poor's cut India's outlook to negative from stable on Wednesday.
The Sensex fell 0.12 percent to 17,130.67 points, while the Nifty ended down 0.25 percent at 5,189 points.
The companies that did well recently are the biggest losers of the day, as the investors, who booked profit, seem to be cautious after S&P downgraded India's outlook.
Shares of Hero MotoCorp fell 3.3 percent and Nestle India fell 4.06 percent. In financial sector, HDFC Bank fell 1.13 percent and Yes Bank lost 2.3 percent.
However, Infosys, whose shares have dipped of late, gained 0.3 percent on Thursday after Citigroup upgraded the software services exporter buy from "neutral and raised its target price to 2,750 rupees from 2,700 rupees.
Indian stocks have been falling ever since the peak in February. Risk factor gets bigger with widening current account deficit. Markets' outlook has been clouded with foreign investors are facing uncertainty about their taxation.
Standard & Poor's cut India's outlook to negative from stable on Wednesday. The ratings agency downgraded the country's outlook on account of large fiscal deficit, not very impressive reforms, fall in stocks and rupee.
"The outlook revision reflects our view of at least a one-in-three likelihood of a downgrade if the external position continues to deteriorate, growth prospects diminish, or progress on fiscal reforms remains slow in a weakened political setting," said Standard & Poor's credit analyst Takahira Ogawa.
The ratings have been constraint by India's large fiscal deficits and debt.
"We expect India's real GDP per capita growth will likely remain moderately strong at 5.3% in the current fiscal year ending March 31, 2013, compared with about 6% on average over the prior five years, but down from 8% in the middle of the last decade," Mr. Ogawa said. "India's favorable demography and the increasing middle-class population will undergird its medium-term growth prospects, which in turn will support the sovereign ratings."
India has been rated badly by all the major rating agencies. S&P gave BBB long term rating on India while Moody's gave Baa3 and Fitch gave BBB. It also downgraded the rating outlooks of big Indian information technology companies Infosys, Tata Consultancy Services and Wipro from stable to negative.