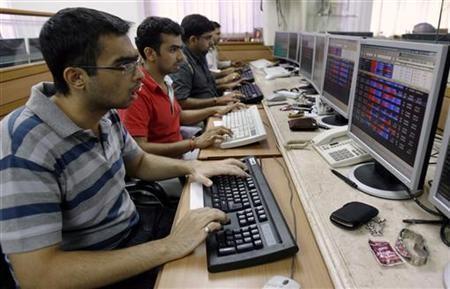 The BSE Sensex gained over 1.2 percent in the previous session but it closed nearly one percent down on Wednesday. Banks lead the fall on worries of a rise in cost of funds and heavy government borrowing.
The main 30-share Bombay Stock Exchange Sensex ended down 0.8 percent at 17,121.62 and the National Stock Exchange's fifty share Nifty 0.92 percent at 5,194.75.
State Bank of India (SBI) on raised interest rates on short-term deposits by up to 100 basis points on Tuesday and investors expect other banks to follow suit. It is apparent from daily reports that Indian banks are facing acute cash crunch. So, the BSE banking index, which has risen 25 percent so far in 2012, was down by 1.86 percent.
Share of SBI was down by 2.3 percent, ICICI Bank fell 2.1 percent, HDFC Bank fell 1.4 percent. Oil and Natural Gas Corp, Oil India and Cairn India also fell by over 2 percent.