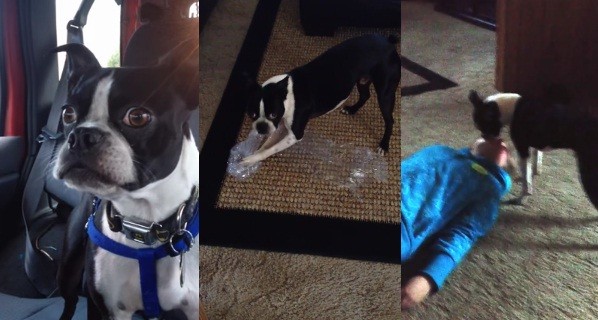 "America's Got Talent" can anticipate a new contestant in Bruce, the talented Boston terrier, who brilliantly impersonates goats and dolphins.
In a hilarious YouTube clip posted by his owner "Morbid Angela", one-and-a-half-year-old Bruce is seen sitting on the backseat of a car imitating the bleating of a goat and the whistling of a dolphin, much to the elation of his giggling owner and her daughter.
Bruce apparently loves other animals and this was his reaction to seeing a dog across the street that he wanted to play with, explains Angela. The video, which was first posted by Angela on 11 August gained popularity after Rumble Viral, which manages many viral video clips, and has over 506,332 hits in just a week.
The video has tickled many a viewers, such as Janeen Utley, who commented, "That is Hilarious!!! He definitely sounds like a Dolphin !! Hahaha!!
Many dog owners identified with the craziness mutts bring into their homes:
"My dog makes noises like a Taun Taun from Empire Strikes Back," said Atarileaf, while April Power posted, "hahahahaha this is soooo cute. I have a Boston Terrier named Harley and he makes the exact same noises. My dog can also sound like a guinea pig."
The Rockzoo, who has a Bostie says "that's actually calm. Usually sound like they are being murdered. Lol!"
Morbid Angela has posted two more clips of Bruce since the viral video "Bruce the Boston Terrier sounds like a goat or a dolphin?" On 17 September she uploaded "Bruce the Boston Terrier air swims", in which the mutt is seen automatically making swimming movements when held over the bath tub. "Haha. He doesn't really like the water..." captioned Angela.
Other adorable videos of the Boston terrier include "Bruce the Boston Terrier vs the plastic", where Bruce is seen trying to steal the plastic from the packaging of the blinds the owners were installing on their windows, "Bruce the Boston Terrier plays with a rope", where Bruce is heroically attacking a rope and "Bruce the Boston Terrier vs the fly swatter" in which Bruce is seen barking at a fly swatter.
Watch Bruce chomping down some ice cubes in this video titled, "Bruce the Boston Terrier and the crunchy ice"