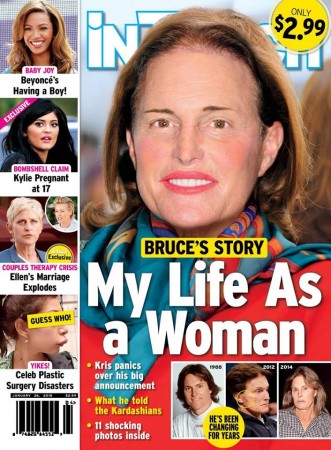 A recent report that Bruce Jenner will soon come out as a transgender has once again managed to highlight the Olympian's changing physical attributes, which many believe, look rather feminine, thanks to his long hair and manicured nails.
It is yet unsure if there is any truth to these sex transformation rumours, but ex wife Kris Jenner is said to be displeased with such reports. Reportedly, she has been pressurising Bruce to release a statement denying the ongoing sex change rumours, but he has managed to shut her down.
"Kris has been pressuring Bruce to issue a statement about ongoing sex change rumors, and she wants it to be a very strong denial," an insider told Radar Online. "She believes that putting out a statement would stop these ongoing rumors, and doesn't understand why Bruce won't do it."
The source noted that the subject is extremely sensitive for Bruce and he doesn't want to be pressured into making a statement, neither by Kris nor by the media. Although Bruce's sex change rumours have been doing the rounds for years, the "Keeping Up With the Kardashian" star has never addressed this, and as per close family friends, it's highly unlikely Bruce will discuss the matter with the media.
Pressure for Bruce to address the matter intensified after In Touch featured a picture of him as a woman, complete with long hair and makeup.
Bruce's children are said to be supportive of their father's decision to undergo a sex change operation if that is what he desired, and now he has found another supporter in Russell Brand. The actor urged the media to stop focusing on his physical appearance saying it was akin to bullying and "transphobia."
"Transphobia seems to be the most recent and encouraged form of prejudice, now that racism and homophobia are not tolerated," Brand said in his YouTube show "The Trews" and added: "It's such a celebration of the worst aspects of human values. What this does is it sanctions people being judgmental and cruel toward transgender folks."