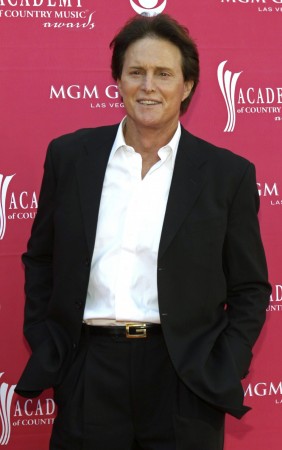 Bruce Jenner once again fuelled sex change reports when he stepped out wearing a pair of diamond studs and a French manicure. The reality star had his hair in a sleek ponytail as he came out from Starbucks in Malibu, Calif. on Wednesday, 3 Decembr. Jenner was dressed in a black zipped up hoodie and white hat.
He also flaunted his wedding ring from ex-wife Kris Jenner. Moreover, the former Olympian appeared to be wearing lip-gloss. This is not the first time that Bruce has been spotted with manicured hands. Last month he was seen showing off a red manicure, according to US Weekly.
Bruce is said to be planning to turn into a woman since he split from Kris, last year.
"His goal is to live as a woman and look as much like one," a source close to the family told Us Weekly. "He has been struggling for a long time with his feelings about being a woman inside."
However, there is no confirmation of these reports and Kris has repeatedly denied the rumours.
"It's silly. They've been saying that since the '70s," she said during Today's Show. Even his son Brody Jenner has said that he has no idea what Bruce is doing and he seldom discusses rumours with his father.
"Honestly, I have no idea what he's doing. I talk to him every day, but we don't talk about the rumours in the press. It's his business, so leave him the f**k alone. He's living his life and he's extremely happy," he said to In Touch.
Bruce recently finalised his divorce from Kris. The two announced their separation last year on "Keeping Up with the Kardashians." They had said at the time that they were happy staying apart.
They still remain friends. They also celebrate all family occasions together. Bruce and Kris have two daughters from the marriage, Kendall and Kylie Jenner.