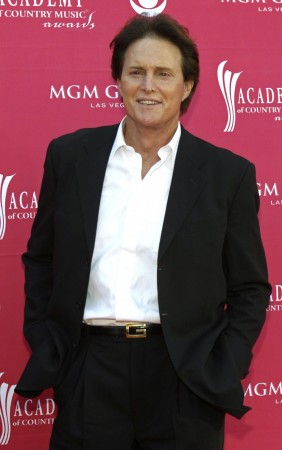 Bruce Jenner has been sporting a feminine look since his split from Kris Jenner, aiding speculation that he is in the transition process to become a woman. And new reports claim that the reality show star has already taped a sit-down interview where he will open up about sex change rumours.
According to Us Weekly, Jenner will address his ongoing sex change in a "major sit-down interview," and will have his own E! show about his "full transformation." It is not immediately known when the interview will be aired, but Jenner's gender transformation is going to be the focal point of the forthcoming docuseries, the media outlet noted.
In the meantime, Jenner was spotted flaunting a longer hair do at a car repair shop in Los Angeles on 27 January. The 65-year-old was also spotted with fuller-looking lips.
This comes closely after the media snapped him sporting a French manicure and a larger bustline. While it is still a mystery if Jenner is transitioning, the Olympic champ did go under the knife to remove his Adam's Apple, which according to many, is the first step in the sex change process.
Jenner has also reportedly got in touch with Chaz Bono to help him through this process. Jenner dated Bono's mother Cher in the 80s and knew the transgender activist as Chastity, according to The National Enquirer.
"Bruce has watched Chaz's physical transformation with amazement," a source close to the reality show star said, according to Radar Online. "He said that it's been very inspiring. He's fascinated by what's happened to Chaz and says the results are stunning."
Now that Jenner is at the centre of sex change rumours, he's been "pouring out his heart" to Bono about his personal problems. "They seem to be kindred spirits," the friend divulged. "They have a real touching relationship."