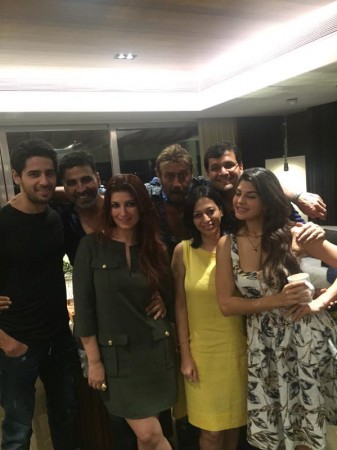 The trailer of Sidharth Malhotra and Akshay Kumar starrer "Brothers" released on Wednesday and garnered appreciation from all quarters.
To keep the merriment going, Karan Johar hosted a party at his place the same evening to celebrate the one million views that the trailer received within a few hours.
"Super fast 1 million views!Thank you for all the love.....@karanmalhotra21 's labour of love http://bit.ly/BrothersOfficialTrailer ... @akshaykumar @S1dharthM," KJo tweeted.
"Brothers" team including Sidharth Malhotra, Akshay Kumar with wife Twinkle, Jacqueline Fernandez and Jackie Shroff were all present at KJo's house.
The two hot jackies!!!! @Asli_Jacqueline @bindasbhidu pic.twitter.com/5lNfRpnr6o

— Karan Johar (@karanjohar) June 10, 2015
Team @Brothers2015 pic.twitter.com/f6QQ04u8hd — Karan Johar (@karanjohar) June 10, 2015
@S1dharthM with the reel and the real BROTHER @akshaykumar pic.twitter.com/0yBm7ye2vj

— Karan Johar (@karanjohar) June 10, 2015
[Pic] @Asli_Jacqueline with @akshaykumar @S1dharthM Twinkle Khanna, and Jackie Shroff at @karanjohar party pic.twitter.com/9wVMF3Mnj7 — JacqHolicsIndonesia (@_JFFI_) June 11, 2015
The upcoming film is about two brothers -- David Fernandes and Monty Fernandes -- who turn fighters and end up facing each other in the ring.
While Twitterati has been raving about Sidharth and Akshay's performance, Karan Malhotra, who received accolades for "Agneepath", has once again captured hearts with his brilliant direction.
The star cast of "Brothers" also organised a trailer launch event, where they interacted with the media on 10 June. The much-awaited movie is up for a 14 August release.
Watch the trailer below: