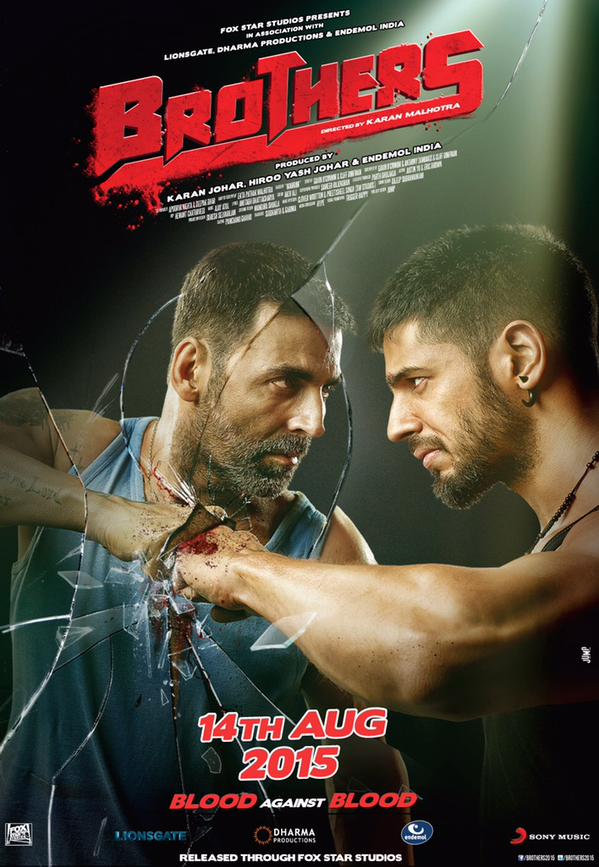 Bollywood's two handsome hunks, Sidharth Malhotra and Akshay Kumar, will appear on the silver screen together in Karan Johar's "Brothers". Both are busy promoting the film and also, the makers released a brand new poster of it.
The two on-screen brothers can be seen enjoying the promotional events. Recently, they visited many radio stations to promote "Brothers".
Several pictures of the two handsome Punjabi guys promoting the film at events are doing the rounds on the Internet.
Insane fun with @akshaykumar @S1dharthM on my tv show #SeeTaareMastiiiMein @mastiiitv @Brothers2015 pic.twitter.com/R7jrAaH5BF

— Siddharth Kannan (@sidkannan) July 31, 2015
This morning at our Mumbai studios @Brothers2015 came and conquered!:) #MadMornings @akshaykumar @S1dharthM pic.twitter.com/Q2YFXUl3yU — Fever 104 FM (@Fever_104FM) July 31, 2015
With the toughies @akshaykumar and @S1dharthM! pic.twitter.com/mNsoydH4jR — Madhureeta Mukherjee (@MaddyMatters) July 30, 2015
Even Sidharth Malhotra's name has been trending on Twitter today. "Just saw Sidharth Malhotra trending again,feels super cool n exciting,will see you guys at the movies again on #BrothersAug14 love n respect," he tweeted.
The "Brothers" trailer, which was released on 10 June, has garnered more than eight million views on YouTube till date.
A few days ago, producer Karan Johar took to Twitter to share the big news. "The #Brothers trailer at 8 million!!! #BrothersAreComing #august14," he tweeted.
The upcoming film is about two brothers, David Fernandes and Monty Fernandes, who turn fighters and end up facing each other in the ring. It also features Jacqueline Fernandez and Jackie Shroff in pivotal roles.
Slated to hit theatres on 14 August, the film also marks the "Khiladi" actor's first collaboration with Dharma Productions.
Directed by Karan Malhotra, the film is the official remake of 2011 Hollywood film "Warrior", which had Tom Hardy and Joel Edgerton in the lead roles.
Related
'Brothers' Trailer Garners over 8 Million Views; Akshay Kumar, Sidharth Malhotra Gear up for Big Fight in Title Song 'Brothers Anthem' [VIDEOS]
'Brothers' Song Teaser: Kareena Kapoor Khan to Seduce Sidharth Malhotra in 'Mera Naam Mary' [VIDEO]
Will Trailer of Aishwarya's 'Jazbaa' Overshadow Akshay-Sidharth Starrer 'Brothers' Release?
Sidharth Malhotra with Akshay Kumar in 'Brothers' or Fawad Khan in 'Kapoor and Sons' -- Which Duo Looks Better? [VOTE]
'Brothers' Trailer Review: Riteish Deshmukh, Rana Daggubati Hail Sidharth-Akshay Kumar Starrer [PHOTOS VIDEO]