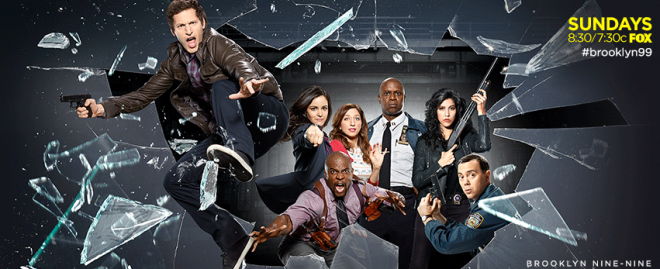 After celebrating the wedding of two colleagues' parents, the "Brooklyn Nine-Nine" precinct is back to chasing bad guys and... solving brain teasers? The season 2 episode 18 of FOX's cop comedy "Brooklyn Nine-Nine" to be aired on Sunday, 8 March, will introduce a new character, Jake Parolta's absentee father Roger (Bradley Whitford).
Jake (Andy Samberg) is very excited about the arrival of his absentee father, who is coming to town to spend time with him. Throughout the series it has been mentioned time and again how he abandoned Jake as a child. His father leaving him is also given as the reason why he does not celebrate Thanksgiving.
Undertsandably, his best friend Boyle (Joe Lo Truglio) is not very happy with his arrival does not all together believe that his intentions are as pure as merely spending time with Jake.
Meanwhile Captain Holt has asked Amy (Melissa Fumero), Terry (Terry Crews), Gina (Chelsea Peretti) and Rosa (Stephanie Beatriz) the task of finding the answer to an extremely difficult brain teaser, in exchange for tickets to a Beyonce concert. Captain Holt has always had a love for solving puzzles and have consistently expressed the desire that people around him, especially his team, would take part in activities that mentally stimulates them.
Watch out for "Brooklyn Nine-Nine" season 2 episode 18 "Captain Parolta" on 8 March to see if the incentive of Beyonce tickets would inspire the team enough to solve the puzzle.