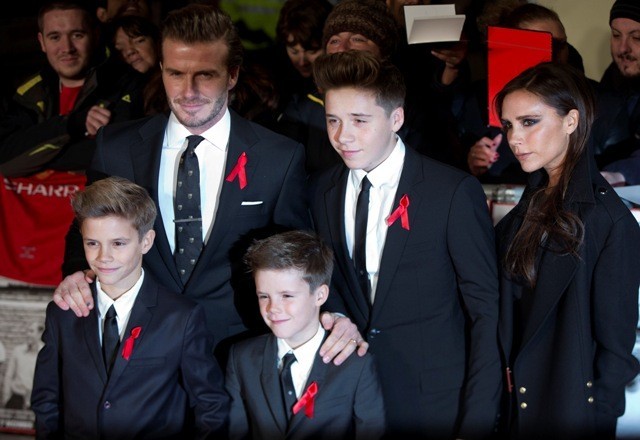 Brooklyn Beckham, the eldest son of David and Victoria Beckham, has made his modeling debut on the cover of Man About Town magazine, which shows the teenager pouting like his mother.
However, fans of the 15-year-old were quick to note that Brooklyn resembled his dad, who was called "the underwear model of the century" by fashion designer Tommy Hilfiger.
Fans have also been raving about the youngster on their Twitter accounts, and Brooklyn has left many girls salivating.
Check out some of the tweets below.
Brooklyn Beckham makes me feel unholy things pic.twitter.com/EyeFgTNfLU

— Liv (@olivialouisek) March 31, 2014
whens brooklyn beckham legal — luke (@skillyy) March 31, 2014
My whole twitter is going ga ga over Brooklyn Beckham...take a step back girls HES 15 YEARS OLD!! Practically a baby!

— natasha worby (@NatashaWorby) March 31, 2014
also Brooklyn Beckham is straight up dreamy wtf someone arrest me already — tucker (@turtwigs) April 1, 2014
Brooklyn's pictures, which shows him wearing labels like Ralph Lauren, Saint Laurent and Supreme, were shot by famed photographer Alasdair McLellan, who is considered to be a friend of the Beckhams having shot Victoria and David on several occasions.
The editorial that accompanies Brooklyn's pictures talk about teenage style, and Man About Town Editor-in-Chief Ben Reardon believes they couldn't have asked for a better subject that Brooklyn.
"We could not have wished for a stronger subject than Brooklyn to bring this story to life. He was a diligent, relaxed cover star for his first ever fashion shoot," Reardon told Mail Online.
"The story was a genuine pleasure for all involved. Brooklyn was a true professional…It is clear that he is becoming a credit to the family name, not only possibly the most famous in the world but one with a wealth of heavyweight fashion influence behind it."
Although it is too soon to say if Brooklyn will make a full-fledged career out of modeling, right now his focus is on education.
"Brooklyn is focused on school and soccer, but of course he was so excited to get his first magazine cover shoot as he's interested in photography like his dad," a source told the website.
"The photo shoot was shot over a weekend and all the family went along to support Brooklyn.David and Victoria are immensely proud of all their children, and they never push them into anything even though the boys get lots of offers."