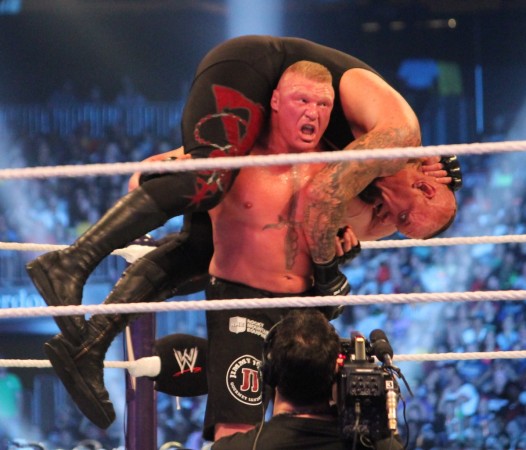 Professional wrestler and mixed martial artist Brock Lesnar has been temporarily suspended for failing drug tests. The 39-year-old had made a successful comeback this year with UFC 200. But, the Nevada State Athletic Commission revealed on Tuesday that he failed two drug tests. The first one was prior to his fight against Mark Hunt at UFC 200 and another, on the fight night on July 9.
Lesnar tested positive for clomiphene and hydroxy-clomiphene, which is a metabolite of chomiphene -- an anti-estrogen agent that is typically used after a cycle of steroids to prevent many of the side effects that come along with the performance-enhancing drug.
A full hearing on the issue takes place later this week, and if found guilty, Lesnar will face sanctions from both the Nevada and USADA (United States Anti-Doping Agency). The sanctions could include a fine (a percentage of his then-record $2.5 million purse) and a fixed period of suspension, according to Fox Sports.
Lesnar has also been fined US$ 500 for going over the line at WWE SummerSlam. Lesnar took on a returning Randy Orton in the main event of the pay-per-view (PPV). It was supposed to be fair and brutal (as associated with Lesnar normally) inside the ring, but the ending didn't go down very well. The WWE officials were left fuming.
At one point, Lesnar took off his gloves and started a brutal ground and pound on Orton. He was mercilessly beaten up with punches and elbows which left a wide gash on his head, a rare sight in professional wrestling. Everybody knew that Lesnar would be facing consequences for his action.
On Monday night, WWE Raw Commissioner Stephanie McMahon announced a penalty of $500 fine on Lesnar. The fine was later criticised by Stephanie's brother and SmackDown Live commissioner Shane McMahon as he felt the former UFC and WWE heavyweight champion deserved a harsher sanction for his actions.