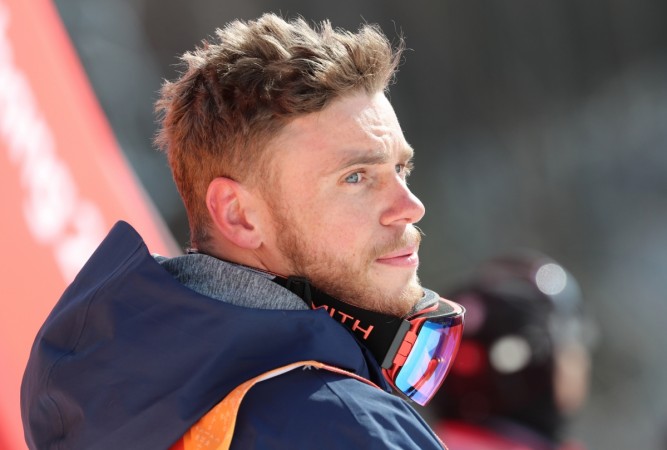 At a time when hate crimes against LGBT community are on the rise, American skier Gus Kenworthy made a positive statement when he kissed boyfriend Matt Wilkas during his Winter Olympic campaign in Pyeongchang on Sunday.
The barrier-breaking kiss at Phoenix Snow Park became even more special as it was captured on live television. The clip is being widely shared on social media and has been greeted with positive response.
Didn't realize this moment was being filmed yesterday but I'm so happy that it was. My childhood self would never have dreamed of seeing a gay kiss on TV at the Olympics but for the first time ever a kid watching at home CAN! Love is love is love. pic.twitter.com/8t0zHjgDg8

— Gus Kenworthy (@guskenworthy) February 19, 2018
Among the ones to greet the Sochi Olympic silver medallist, who finished 12th after suffering a finger injury in Pyeongchang, was pop icon Britney Spears. The long-time gay icon took to Twitter and lauded Kenworthy by quoting a lie from her popular song "Gimme More".
Spears' reaction won a lot of praise on social media. Kenworthy himself replied to the Tweet. Notably, the 26-year-old reportedly revealed he listens to "Gimme More", which is his stressbuster during competitions.
Oh. My. God. Was really not prepared to wake up to this. Not sure how I'm gonna ski today because I'm LITERALLY dead now but I'm gonna go that extra mile for you, Britney! Ilysm!!! ?❤️ https://t.co/yhoEJq1qRL

— Gus Kenworthy (@guskenworthy) February 17, 2018
Britney, who has been campaigning for LGBT rights in the US, will reportedly be honored by US LGBT campaign GLAAD in April.
The pop star had joined hands with other prominent artists in 2016 to perform a song -- Hands -- released by GLAAD in memory of Pulse nightclub shooting victims. Notably, a 29-year-old security guard reportedly killed 49 people and injured 58 others by opening fire at the gay nightclub in June, 2016.
Britney was also among the ones to speak out against anti-LGBTQ bills introuced in the US last year.
Kenworthy's long-awaited kiss
Meanwhile, Kenworthy is among the few openly gay athletes at the ongoing Pyeongchang Games in South Korea.
Canadian pair skater Eric Radford became the first out athlete to win an Olympic Gold when he won the Figure Skating event at the ongoing Games last week. USA's Adam Rippon, who won the bronze at the event, has also been winning hearts with his display of queerdom.
Kenworthy with Rippon at the opening ceremony in Pyeongchang
Kenworthy revealed he was too scared to kiss his boyfriend after the Silver medal-winning run four years ago in Sochi but is happy that his affection has been "broadcast for the world".
"I didn't even know that that was a televised moment at all. But I think that's amazing, that's something that I wanted at the last Olympics was to share a kiss with my boyfriend at the bottom but I was too scared to do it for myself," Kenworthy told the media, as quoted by Reuters.
My Seoul mate! So happy to have my bf, my family and some amazing friends here in Korea to cheer me on! Tomorrow's the big day (tonight for y'all in the US) and win or lose I just wanna thank you all SO much for your support and encouragement. I wouldn't be here without you. pic.twitter.com/XwqWKldwbN

— Gus Kenworthy (@guskenworthy) February 17, 2018
"So, to be able to do that to give him a kiss, to have that affection broadcast for the world is incredible. I think it's the only way to change perceptions, break down homophobia, break down barriers is through representation and that's definitely not something I had as a kid," he added.
"I definitely didn't see a gay athlete at the Olympics kissing their boyfriend and I think if I had it would have made it a lot easier for me."