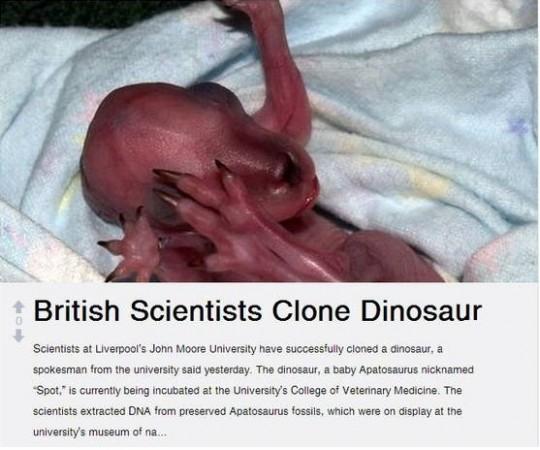 A story claiming that British scientists from Liverpool's John Moore University have successfully cloned an Apatosaurus, a kind of Dinosaur, is getting a lot of attention from befooled Internet users this week.
While the idea doesn't seem too impractical going by the pace in which scientific advancement is gaining prominence in today's world, the simple fact is that the story is just another joke originating from a hoax site called News-Hound.
The article published in News Hound just in time ahead of April Fool's Day says:
The dinosaur, a baby Apatosaurus nicknamed "Spot," is currently being incubated at the University's College of Veterinary Medicine.
The scientists extracted DNA from preserved Apatosaurus fossils, which were on display at the university's museum of natural science. Once the DNA was harvested, scientists injected it into a fertile ostrich womb.
"Ostriches share a lot of genetic traits with dinosaurs," said Dr Gerrard Jones, a biology professor at LJMU and the project's leading scientist. "Their eggshell microstructures are almost identical to those of the Apatosaurus. That's why the cloning worked so perfectly."
As fanciful as it might sound, the simple truth is scientists haven't cloned a dinosaur and there are more than few reasons why.
The total lock of sources in the article is just one thing, but people while reading the story must get plenty of hints on why the story is untrue, simply by scrolling through the various other stories that appear on the page's side bar. Only a few days ago, the name Gemma Sheridan appeared in a hoax story of the same website claiming Google Earth found a woman trapped on an island for seven years.
More importantly, it might not take more than a few seconds for any smart web-savvy netizen to find out that the picture used in the fake story is actually the photo of a newborn, furless macropod (a kangaroo) as shown on Granite Belt's online community.
Also, for any wise individual, it should not be too difficult to understand that the stories that appear on the website such as "Man found alive after three days in Sunken ship" or "Incan Girl who had been frozen for 500 years" should be, beyond reasonable doubts, fake stories.
But many people have fallen prey to the hoax posting the story in Twitter claiming that Jurassic Park is now going to be a reality.
Have a Look at Some of the Posts Below:
Jurassic Park may be a part of our future http://t.co/oZ0MGOc6TZ

— sarawr (@sweetNsarawr) March 30, 2014
Dear Lord! Jurassic Park was apparently just a precursor to reality! http://t.co/jews6lK74D — Kent M. Smith (@HyruleBalverine) March 30, 2014
Is this real?? I feel like this can't be real... http://t.co/0HgJqxqhf3

— Darren Korb (@DarrenKorb) March 30, 2014
If this is real, Jurassic Park is closer than we think. And we all know how that ended... "Scientists clone dinosaur http://t.co/gG776QoyMc" — JohnBirdMedia (@JohnBirdMedia) March 30, 2014
Oh snap! Scientists just cloned a Dinosour! Jurassic park here we come. :) Check it out: http://t.co/E8y8gJuH98

— Mohamed H (@MohamedH09) March 30, 2014
welcome... to jurassic park.. RT BRITISH SCIENTISTS SUCCESSFULLY CLONE DINOSAUR http://t.co/KIZCjySVOd http://t.co/KIZCjySVOd — wisnu (@wisnuhy) March 30, 2014
A real dinosaur was cloned! Real life Jurassic park. Curious though if we want to mess with evolution. http://t.co/mb1tBLxkU1

— Jessica Kantor (@JessKantor) March 30, 2014
We had three movies warning us NOT to do this. #jurassicpark http://t.co/uRgxcs6bJQ — Toronto Batman (@torontobatman) March 29, 2014
http://t.co/Wt9TbNwAFX This achievement by Science is Awwwwwesome!

— mrossano6970 (@mrossano6970) March 29, 2014