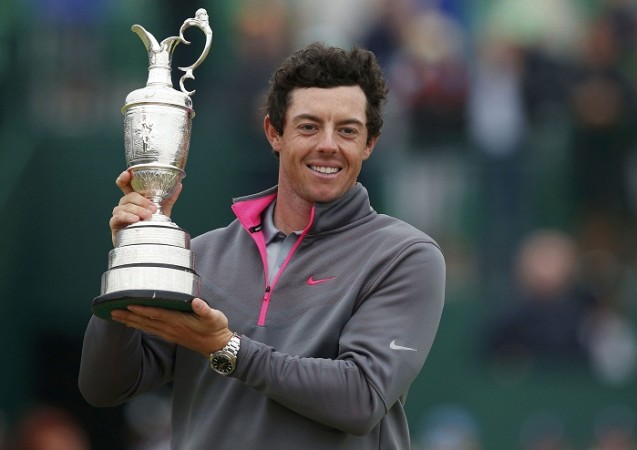 Rory McIlroy held off a late charge from American Rickie Fowler and Spaniard Sergio Garcia to complete a thrilling victory in the British Open at the Royal Liverpool Golf Club on Sunday.
McIlroy went into the final round with a six-stroke advantage over Fowler but his lead was slashed to two when he made two bogeys in fifth and sixth to open the gates for the American. Fowler played flawlessly in the entire round and closed out the day with birdies on 16th and 18th.
Garcia also managed to pull within two of the Irishman by hitting birdies in first, third and fifth holes, while striking an eagle on the tenth. However, the Spaniard hit a bunker in the fifteenth, which ended his chances of beating the two-time major winner.
McIlroy, meanwhile, lifted his game after hitting consecutive bogeys and struck birdies in ninth, tenth and 16th to complete the round one-under par 71, two points clear of Garcia and Fowler that finished on tied second.
"This has been an incredible week," said McIlroy on Sunday. "Today wasn't easy. There were a few guys who were making a run at me so I had to stay focused and get the job done. I set myself a target of getting to 20 under today but fortunately I didn't have to get to it.
"I'm immensely proud of myself. To sit here at 25 years of age and win my third Major Championship and be three-quarters of the way to a career Grand Slam is something I never dreamed about at this stage of my career."
Fowler ended the fourth round at six-under par 66 but it wasn't enough to beat McIlroy. The 25-year-old, who has finished second in his last two major appearances, insisted he is pleased with his performance.
"Today was kind of similar to the US Open," Fowler said. "There I was one of the only two players who shot under par but didn't win and here I shot four rounds in the 60s but missed out again. It's tough but it's hard to be too disappointed.
"I'm pleased with the way I hung in there. Congratulations to Rory. He played awesome. To see him win was pretty cool."
Meanwhile, three-time winner Tiger Woods completed his worst ever campaign at the Open Championship by finishing the final round at three-over par. The former champion hit four bogeys and double-bogeyed in the seventh to finish the tournament in a disappointing 69th place.
"I got four rounds in but unfortunately I didn't play very well today," said Woods. "It was a little different than it was on the first day, obviously. But, again, I just made too many mistakes. I had two triples, two doubles. 2 or 3 three-putts this week, just way too many mistakes."
Catch the highlights of the fourth round HERE