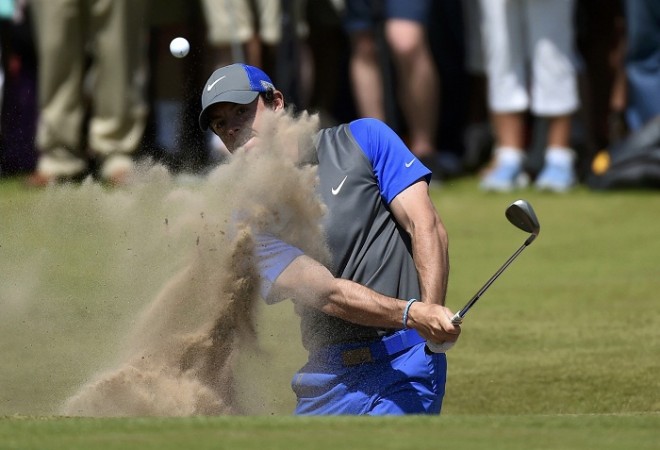 Former world number one Rory McIlroy made a blistering start and shot six under par 66 to top the leaders' board on the opening day of the 143rd British Open at the Royal Liverpool Golf Club.
This is not the first time in recent tournaments that the two-time major winner has started in this fashion, as in the Scottish Open last week he was in the similar position but couldn't win the tournament because of a terrible round on Friday.
McIlroy is just one stroke ahead of the Italian Matteo Manassero, who shot a 67 and is poised to make a move on the Irishman should he stumble on Friday. Manassero made a 'perfect start' with just two drop shots and seven birdies.
"It's the perfect start," said Manassero. "It was a really good round and I'm very pleased with it. I played solid and a few putts dropped. It's also great to see Edoardo and Francesco up there. It would be fantastic to have a few Italians on the leader board on Sunday afternoon."
Meanwhile, world number one Adam Scott finished the first round on tied third with Edoardo Molinari, Brooks Koepka, Francesco Molinari, Jim Furyk, Sergio Garcia and Shane Lowry at four under par 68.
Scott played controlled golf and kept McIlroy in sight as they are separated by just two strokes. The Australian will rue the missing putt, when he bogeyed in the 12th, although he jumped back on track by dropping a birdie in the next hole.
"It's important, you've got to keep pace with a guy like Rory," Scott said. "He has the potential to really put his foot down. I've seen him shoot lots of low rounds and there's nothing stopping him from doing that tomorrow, either."
Fourteen-time major winner Tiger Woods, after making a nervous start with two bogeys, finished the opening day just three strokes behind McIlroy at tied tenth. Woods scored five consecutive birdies after a nervous start and finished three-under par 69 in the opening round.
Woods is playing just his second tournament after a back surgery, and in his last outing at the Congressional Country Club he played only two rounds.
The only Indian competing at the Open Championship, Anirban Lahiri, finished the opening day with a disappointing three over 75. Lahiri, who was one of the early starters, struggled on a number of stages and was nowhere close to his best, as he only managed three birdies while finishing with four bogeys.
"It was ideal conditions and I have no excuses," Lahiri said. "I played pretty poorly especially on holes where there were lots of opportunities. The last four holes are easier holes and coming in, I think I got a bit frustrated that I didn't make anything happen. It's a great learning experience."
"I struggled," he added. "Honestly, I was nowhere near where I should be with my game. It would have been nice if I could make a few more putts from inside 10 or 15 feet. It just didn't fall for me today."
See the full standings at the end of Day 1 HERE and HERE.
Catch the highlights of the opening day HERE.