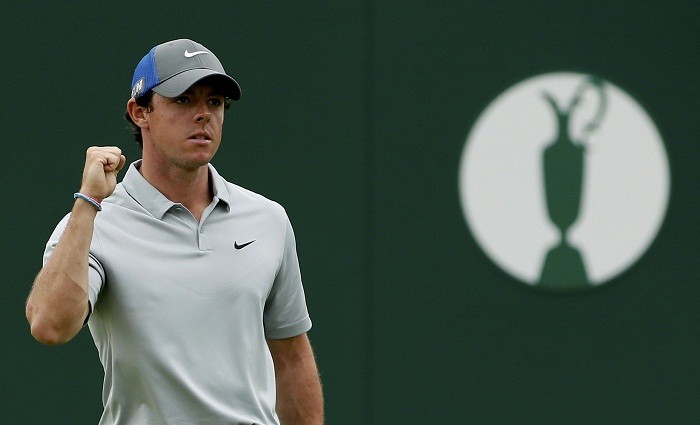 Two-time major champion Rory McIlroy crushed the challenging pack with a sensational double eagle finish on the third round of the British Open to build a six-stroke advantage on Saturday.
McIlroy started the third round with a four-point cushion, after putting his woeful second round finishes behind in the previous tournaments, and overcome a tough fight from American Rickie Fowler, who is second with 10-under-par.
Just when Fowler looked to create challenge for McIlroy, the Irishman produced one of the best performances of the tournament and finished the round at 16-under par. He hit a birdie in 14th hole and struck eagles at the 16th and 18th to create a huge lead over the American.
The former world number one also fashioned the best performance in the third round of the Open Championship since 2000, when Tiger Woods went on to win the tournament.
"Rickie Fowler was getting close to me," Mcllroy said. "I knew if I could hit good drives on 16 and 18, I would have a good chance of birdie. I didn't expect to hit eagles, but there you go."
"It is a good thing I have experienced this before, good and bad," he added. "Hopefully some of that experience I can take into tomorrow. My game plan all week has been to take care of the par fives and I want to do that again tomorrow."
Meanwhile, former champion Woods finished the third round one-over-par 73 and 16 shots behind leader McIlroy. The three-time Open champion, after playing a disastrous second round, looked relaxed on third day, but wasn't quite sharp.
"Made a lot of mistakes," Woods said. "I've made two doubles and two triples, but on top of that, I missed a lot of shots for opportunities for birdies and consequently I'm three-over-par."
World number one Adam Scott finished the third round 10 strokes behind McIlroy, after he carded three-under-par 69 on Saturday. However, Scott is not giving up title hopes and insisted that it will not be easy for the Irishman to clinch the title.
"Well I mean if we have similar conditions (as) today there are low scores out there," Scott insisted. "If you can get it going for 18 holes there's a chance for that major-scoring record to be broken.
"If you can post a number you never know, because no matter how easy you might think it is, it's a lot harder with the pressure of a major," he added.
Catch the highlights of the third round HERE.
See the full standings at the end of the third round HERE and HERE.