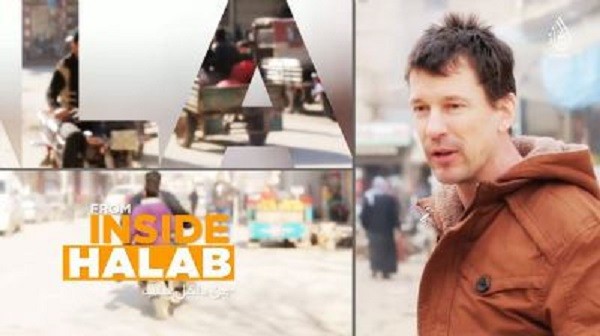 British journalist John Cantlie has been featured in a new ISIS video, in which a French fighter with the terror group praises the Paris attackers and calls for more such attacks by "lone wolves" on France.
In the new ISIS video titled "From Inside Halab" – a reference to the ancient name for the Syrian city of Aleppo – Cantlie discusses a wide range of topics such as education, drone strikes and Sharia law.
Cantlie, who has been an ISIS captive for the last two years, states in the 12-minute video that it would be the "last film in this series."
In the video, 43-year-old Cantlie interviews a French ISIS fighter,who encourages other French Muslims to launch individual attacks against France. The French fighter says he was delighted to hear the news of the attacks in Paris. He then says: "Kill them with knives. At the very least, strike them in the face."
In the video, Cantlie admonishes the coalition airstrikes for destroying the beautiful city of Aleppo. He then takes viewers through scenic and picturesque views around the city.
On educaiton, Cantlie notes that children in Aleppo are learning to recite the Koran, and "with any luck they will form the mujahideen [jihadi] for the next generation in this region."
Cantlie is then shown sitting in a Sharia court, where he praises the remarkable system, before which democratic laws of the country look weak.
The video is the second documentary-style video in the "Inside..." series, following videos from Kobane, Syria, and Mosul, Iraq.