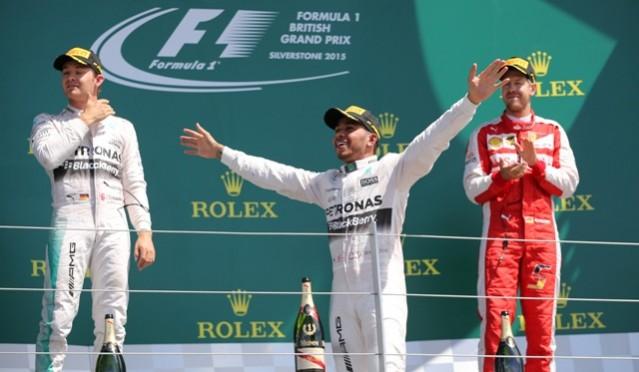 British Grand Prix 2015 winner Lewis Hamilton admitted to getting tearful, following his win in a rain-soaked day at the Silverstone Circuit.
The defending Formula One champion went on to pick up his fifth win of the year, having previously bossed the Australian, Chinese, Bahrain and the Canadian Grands Prix.
However, the win at Silverstone in front of his home fans did not come easy as the Brit had to fight a bad start that left him third, with, later, rain also threatening his position at the front.
Yet, against the odds, Hamilton went on to clinch his third victory at the British Grand Prix – having previously won it with McLaren in 2008, and with Mercedes last year as well.
"I am so elated you cannot imagine. It doesn't seem real. I have to pinch myself," the 30-year-old, who has now taken his 2015 drivers championship points tally to 194, said.
"An incredible day. I don't ever tear up very often. I'm not particularly much of a cryer. But on the last lap, last couple of laps I think it was, I was getting watery eyes.
"It was just emotion because I could see the crowd cheering in the corner of my eye. And I knew at that point there were only two laps to go and I had kept it together. When I felt the emotion coming in, I was thinking: 'Stay focused, don't drop it.' It was so difficult out there. So tricky."
The race on Sunday was attended by a capacity crowd of 140,000, and the moment was "too emotional" for Hamilton. Hamilton recorded a time of 1:31:27.729 over 52 laps, and Toto Wolff, Mercedes team boss, wasn't surprised by his driver's achievement.
"If you are a double world champion and win so many races, you are a complete racing driver. You can't put him in a box and say he has only God-given talent. He has to have a view of the whole picture and that was clear here," Wolff said.
"This was Lewis' home grand prix, there were great crowds and it was a relief from the talking down of the sport we have had. We also had the fastest ever pit stop – 2.4 seconds, including reaction time."
Hamilton's teammate Nico Rosberg, who recorded a time 10.956s slower than the Briton, admitted that Hamilton's decision to halt for a second pit-stop on the 43rd lap went in favour of the champion.
Rosberg had taken over first place in the previous two laps, but the stop went in favour of Hamilton, as rain started to fall more heavily, following which Rosberg was forced to change tyres. This resulted in the German finishing almost 11 seconds back in the second place.
"I was pushing hard to try and catch Lewis under difficult conditions but he made the better call and that is where I lost it. Fair play to him," Rosberg said.
Ferrari's Sebastian Vettel came third in the race.