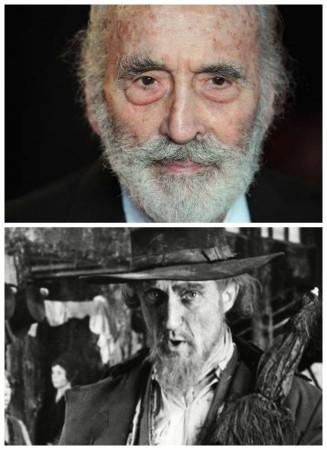 Legendary British actor, singer and author Sir Christopher Frank Carandini Lee and British character actor Ron Moody passed away at the age of 93 and 91 respectively.
While Lee breathed his last on 7 June, Moody died on Thursday. However, reports of Lee's death hit headlines only on Thursday.
Lee, who was popular as Count Dracula in a series of Hammer Horror films, died at the Chelsea and Westminster Hospital in London at 8.30 am on Sunday. He was also known for playing Saruman in "The Lord of the Rings" triology and Count Dooku in "Star Wars" series.
Moody breathed his last in a hospital early morning on Thursday. Moody was nominated for the Oscar best actor award in 1968 for his performance in the Charles Dickens adaptation "Oliver!" as Fagin the Jew.
After the news broke out, many fans and celebs expressed their condolences on social media.
Check out the celebs and fans' reactions below:
@wossy: So sad to hear that Sir Christopher Lee has died. A great actor, a great star, a surprisingly good singer and a lovely lovely man.

— Jonathan Ross (@wossy) June 11, 2015
Scared the living daylights out of me for years. And I loved him for it. RIP Christopher Lee pic.twitter.com/i2sKDXAMhU — Omid Djalili (@omid9) June 11, 2015
Really sad to hear about the death of Christopher Lee, one of the greatest British actors and a master of the macabre pic.twitter.com/q5UUhc7xId

— Boris Johnson (@MayorofLondon) June 11, 2015
Sorry to here of the passing of the great Christopher Lee.A life well lived. — William Regal (@RealKingRegal) June 11, 2015
And sorry to hear Ron Moody has passed as well.A great character actor.

— William Regal (@RealKingRegal) June 11, 2015
Sir Christopher Lee was probably the most imposing and fiercely intelligent gentleman I have ever met. A true hero. pic.twitter.com/93Orcbxa5N — Robert Ross (@RobertWRossEsq) June 11, 2015
Also sad to hear about Ron Moody passing as well, another amazing actor! http://t.co/S84o9Zbejx

— Bath Theatrical (@BathTheatrical) June 11, 2015
Christopher Lee and Ron Moody two legends !!! soooo many great roles these are my personal favourites http://t.co/3Mx8GYS8Mg — Bunny Galore (@BunnyGalore) June 11, 2015
Saddened to hear about the death of Sir Christopher Lee. We're privileged to have a bit of his movie history here pic.twitter.com/j5SNztCkly

— Nat. Media Museum (@mediamuseum) June 11, 2015
Sad times in the acting world - both #ChristopherLee and #RonMoody passed today. RIP. :( — wiltshirewench (@historynvintage) June 11, 2015