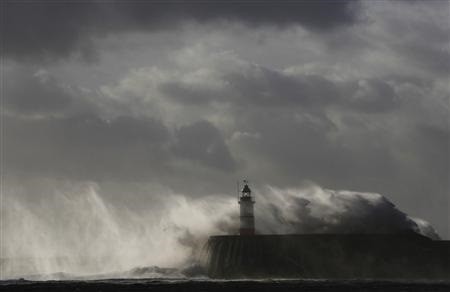 The unusual storm that has hit the United Kingdom, this winter, has not only caused flooding but the winds and tides have uncovered long time buried artifacts.
The Royal Navy's Southern Dive Unit, since mid-December has recovered about 244 items from the World War II, including unexploded bombs, shells and mines. About 70 years after the end of World War II, legacy continued to turn up on harbors and beaches around the Great Britain.
"It's been a very rough winter. During the storms there were about 100,000 tonnes of material redistributed around the beach. When this happens, it unearths all kinds of bits and pieces that you really don't want to see. We know they used to practice firing from there. We have found items spanning several hundred years. Explosives used back in the late 1800s are often more dangerous than more recent devices", BBC News quoted Andy Bradbury, coastal engineer.
Storms have reportedly cleared up beaches and revealed an old pine forest including pine cones that dates back to 10,000 years. The remains of the forest appeared after the beach near the Bridge Village was washed out after a heavy storm.
The pine woodland is not the only forest uncovered by the storm, but an ancient forest the Pembrokeshire in Wales was also exposed to a greater extent.
Pembrokeshire coast was hit by a storm in mid-January that pushed sand from the beach at Newgale, thereby exposing new areas of the forest that is about 10,000 years old.
Archaeologists from the National Park Authority along with their colleagues from Pembrokeshire County Council have been working to safeguard the remains of the Pembrokeshire in Wales forest as part of the cleaning operation.
"We've known of the existence of this forest for many years but I, for one, have never seen it so close to the road. The storms and high seas have pushed the pebble bank back and scoured the sand, exposing the remains of this woodland. We have been able to identify some recognizable timbers from the Mesolithic period", Pembrokeshire Herald quoted Phil Bennett, the Culture and Heritage Manager of the National Park Authority.
"Ten thousand years ago this woodland area would have been visited by hunter gatherer bands from time to time, looking for game and collecting edible plants, nuts and berries as these resources became available during the year", Bennett added.