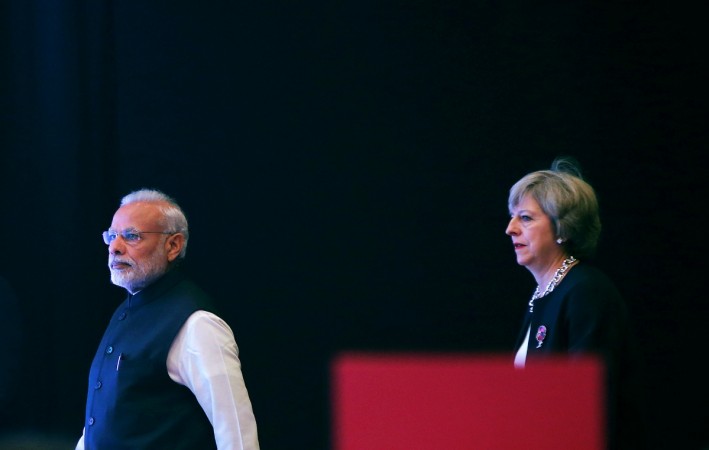 Britain's Prime Minister Theresa May may have started her first post-Brexit visit to a foreign country outside the European Union (EU) on a rather disappointing note. Two issues that have seemingly soured her maiden official visit to India are the controversial UK visa regulations and failure to get an audience with the Tatas.
First, Prime Minister Narendra Modi sought a more liberal regime for giving more opportunities to Indian students to study in the UK, while delivering his speech at the India-UK Tech Summit in New Delhi on Monday.
"Education is vital for our students and will define our engagement in a shared future. We must therefore encourage greater mobility and participation of young people in educational and research opportunities," Modi said, even as his counterpart May was present on the stage.
This evoked a diplomatic response from the visiting British Prime Minister at a joint press conference.
"The U.K. will consider further improvements to our visa offer if at the same time we can step up the speed and volume of returns of Indians with no right to remain in the U.K.
We have a visa system for countries outside the European Union which ensures that the brightest and the best are able to come to the United Kingdom.
The figures show that we issued more work visas to India than, I think, the U.S., Australia, Canada and China put together," she said, reports Bloomberg.
Earlier, the BBC had said that May had rejected calls to make changes in the visa rules for Indians. "Nine out of 10 visa applications from India are already accepted," the channel quoted her as saying.
Meet with Tatas fails to materalise
A meeting sought by May with the Tata Group, which has a significant presence in Britain in steel, automobile and information technology, did not fructify, leading to disappointment.
"I had hoped to meet the key people from Tata while I was in India. Sadly, the schedules don't allow for me to do that on this particular visit but there are regular contacts between the government and Tata Steel," May told reporters on Sunday before beginning her trip, reports Bloomberg.
The Tatas are engaged in a corporate battle ever since Cyrus Mistry was removed as chairman of holding company Tata Sons on October 24, triggering a wave of allegations and counter-allegations.