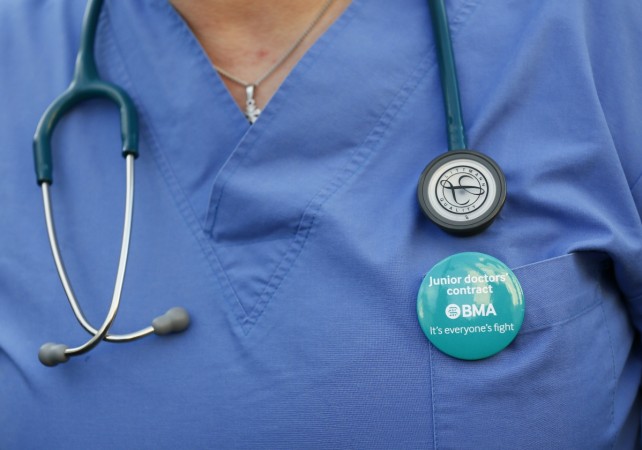 Britain would hire at least 400 doctors from India to address the shortage of medical practitioners in the country and meet a U.K. government pledge of recruiting 5,000 doctors by 2020.
The Health Education England (HEE) has signed a memorandum of understanding (MoU) with India's leading hospital chain, Apollo Hospitals, which will involve the "mutual exchange of clinical staff," the Pulse reported.
The new agreement is believed to have been signed due to the acute shortage of medical staff faced by Britain. The situation worsened after many U.K.-trained doctors left the country.
The HEE, while declining to comment on the details of the MoU, said England and India have signed an MoU as a starting point to explore how both countries can benefit from the mutual exchange of ideas.
The Chennai-based Apollo Hospitals currently has a strength of 40,000 people and has a £500m turnover. The Apollo Hospitals offer a diploma in family medicine that is accredited by the Royal College of General Practitioners (RCGP,) according to the Times of India.
Apollo Hospitals said after the initial discussions, it is looking forward to announce the outcome of this initiative over the course of the next few months and years.
However, doctors in England warn of chaos, if the overseas medical practitioners are recruited in the health services without any prior training.
"I believe HEE wants as many General Practitioners(GPs) from India as possible. . Unfortunately, the training of GPs has not been managed properly over the years. A lot of international medical graduates are failing the clinical skills assessment component of the RCGP," Ramesh Mehta, president of the British Association of Physicians of Indian Origin, was quoted as saying by the Pulse.
He said a lot of doctors are leaving Britain because of its Health Department's policies and the country is looking for more GPs from abroad, which doesn't make sense.
He said that doctors coming from India need to be trained adequately first so that they don't face problems, as has happened earlier when overseas doctors were inducted in the National Health Service (NHS) without being mentored.
Despite the criticism, the Britain government has gone ahead with the recruitment of doctors after doctors reported that the healthcare is in a crisis in the country.
The doctors in Britain are working overtime, seeing 80-890 patients every day, while the European average is 25 patients per day.
The workload on doctors increased by 16 percent over the last seven years as family doctors in England deal with more frequent and longer consultations, while the number of GPs has decreased, according to a major study in The Lancet, the Times of India reported.