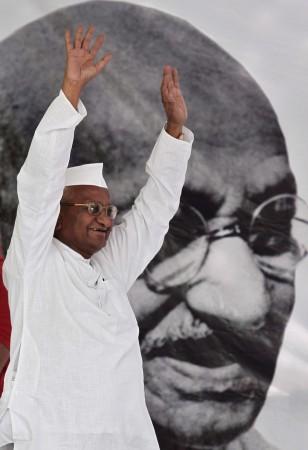 Anna Hazare on Sunday, held a daylong fast at Jantar Mantar in protest against corruption, reviving anger among the masses and stepping up pressure on the UPA government over the introduction of the Jan Lokpal Bill. This fast was for the stronger provision under the Lokpal for appropriate security for the whistleblower.
Hazare, making statements on his future course of action in the battle against corruption, raised a new demand to file FIRs against 14 "corrupt" Cabinet ministers. He threatened a massive "jail bharo" agitation across the country if the scam-hit ministers were brought to book by the August deadline set by him.
Team Anna core committee member Arvind Kejriwal also read out names of the Cabinet ministers, who were in headlines for allegedly being involved in various scams.
Despite there being no direct evidence of wrong-doings, Kejriwal still sought for an investigation into all the alleged scams.
Team Anna members have sought penal actions for the very first time and have condemned the alleged scams by non-Congress politicians. Kejriwal also mentioned those political leaders who hit headlines for being in various alleged scams, including B.S. Yeddyurappa, J. Jayalalithaa, Mulayam Singh Yadav and Mayawati.
Meanwhile, the other names that figured in the UPA cabinet's "corrupt" list were P. Chidambaram, Ajit Singh, Farooz Abdullah, G. K. Vasan, Kamal Nath, Kapil Sibal, Sharad Pawar, Sriprakash Jaiswal, Sushil Kumar Shinde, Vilasrao Deshmukh, M. K. Alagiri, Virbhadra Singh, S. M. Krishna and Praful Patel.
Anna Hazare and his team has been heckling the Congress-led UPA government over a year and continue to do so. Targeting the Congress party in last year's polls, Hazare went on an anti-Congress spree across states and encouraged electors to oust the age-old national party.
The Anna power proved fatal for Congress in many polled states. However, the 74-year-old crusader is now threatening to capsize the UPA government if it fails to meet his single point demand of bringing in a strong Lokpal body.
On Sunday, addressing his supporters at Jantar Mantar, he warned the Congress-led UPA regime to bring about the much-debated anti-corruption ombudsman or brace up for the 2014 general election debacle.
Team Anna and Hazare seemed to be cashing in on the fuming crowd's anger against the government in the upcoming elections, as they took turns to bash the ruling government over corruption.
Meanwhile, the statements made by the team Anna members also hinted at his possible association with Yoga Guru Baba Ramdev in the ongoing stir. Ramdev has been demanding the revelation of names of people who have deposited money in Swiss Banks.
One thing clearly evident now is that there are tough times ahead for Congress and its ministers. Now the question is: Can the national party, that has seen better days in Indian politics, weather the Anna Storm or will it buckle under the Lokpal pressure?