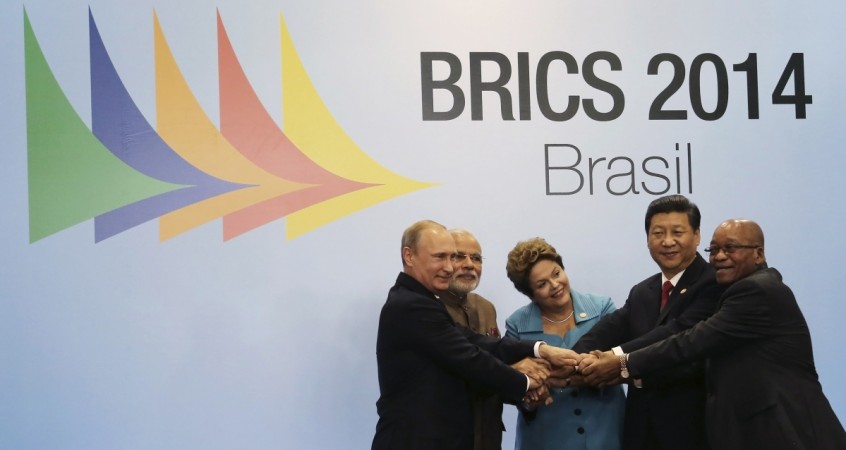 The 6th BRICS Summit kicked off in Brazil on Tuesday, just days after the much-watched and widely-followed FIFA World Cup, with the leaders of the five nations pushing for a Development Bank and a Reserve Fund on the very first day.
The five BRICS nations, namely Brazil, Russia, India, China and South Africa, collectively launched a $100 billion development bank that will begin with an initial capital of $50 billion, as well as a currency reserve pool on Tuesday, which is seen as their first move to create financial institutions to challenge the Western-dominated international financial systems.
However, while India was bargaining hard for basing the headquarters of the Bank in New Delhi, China got the upperhand and will operate the bank from Shanghai. The only consolation for India was that it will get the first term of presidency of the bank for five years. India will then be followed by Brazil and Russia.
The five nations will have equal shareholding in the bank of $10billion each.
Ever since their formation in 2009, the BRICS nations have been pushing for strong international presence particularly to challenge the United States' dominance, and the idea of the bank was conceived during the fourth BRICS Summit in New Delhi in 2012 on the lines of the World Bank.
"It (the Development Bank) will benefit BRICS nations. But will also support other developing nations. And, it will be rooted in our own experiences, as developing countries," Prime Minister Modi said in an official statement at the summit.
The Bank, that will begin lending operations in 2016, will also be open for other countries on the principle that the BRICS nations hold at least 55 percent of the capital share, Reuters reported.
Apart from the Bank, the nations will also maintain a $100 billion currency reserves pool that will aid the countries in the face of economic volatility.
"It (the Reserve Fund) will help contain the volatility faced by diverse economies as a result of the tapering of the United States' policy of monetary expansion," Reuters quoted Brazilian President Dilma Rousseff.
China is expected to make the biggest contribution of $41 billion to the reserve pool, followed by $18 billion each from Brazil, India and Russia and $5 billion from South Africa.
Modi, along with Brazilian President Rousseff, Russian President Vladimir Putin, Chinese Presdient Xi Jinping and South African president Jacob Zuma, launched the two initiatives at Fortaleza.