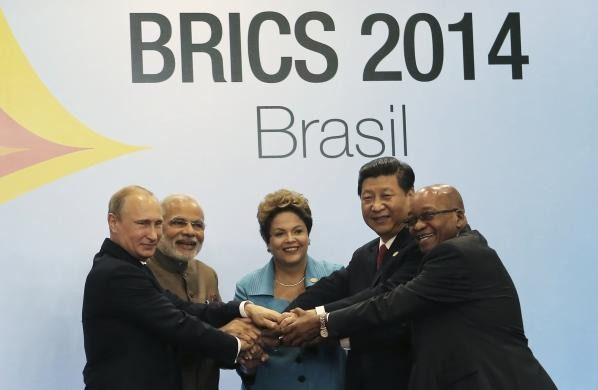 The 6th BRICS Summit, which was held in Brazil over the last two days, was definitely a new cycle for the young group of emerging economies that came together in 2009.
While annual summits among the members have been held for the last five years, it is now for the first time that the group set up international institutions when they announced the New Development Bank and the Contingent Reserve Arrangement.
"So far they've only been an informal set-up and now for the first time they will create an actual institution," Oliver Stuenkel, Professor of International Relations at the Getulio Vargas Foundation in Sao Paulo told BBC.
India, Russia, China and Brazil had come together in 2009 to call for a reform of the existing economic systems, and South Africa had joined in 2010. The term 'BRIC' was first coined in 2001 by Goldman Sachs analyst Jim O'Neill, who had envisioned that the four emerging economies could grow into formidable significance in the world order.
The two new institutions have been set up in a bid to counter the Western-dominated financial institutions such as the World Bank and the International Monetary Fund.
The creation of these institutions 'have put to rest the myth that emerging powers cannot act in concert for long and build institutions of global significance', Hindustan Times reported.
This development is already being compared with the new world order that came in at the Bretton Woods Conference in 1944, that paved the way for several multilateral institutions such as the World Bank, European Investment Bank and the Asian Development bank among several others. The allusion was made in a report by Zee News.
BRICS, comprising Brazil, Russia, India, China and South Africa, very well has the resources to be the new world order, given that it covers almost half the world's population and four of countries are among the top ten economies in the world. Thinktank Eurasia Review had reported earlier that this is the only group of countries that has the ability to create alternatives to the Western-dominated economic system.
Prime Minsiter Narendra Modi himself had called this Summit the "second cycle" of BRICS Summits, stating that it comes at a time of "political turmoil, conflict and humanitarian crisis in several parts of the world, and persisting weakness and risks in the global economy".
He had called BRICS as "forward-looking". "There is a uniqueness of BRICS as an international institution. "For the first time it brings together a group of nations on the parameter of 'future potential'; rather than existing prosperity or shared identities. The very Idea of BRICS is thus forward-looking," he had said in his statement at the Summit.
Apart from setting up the financial institutions, the five nations also agreed to collectively tackle global challenges of terrorism and climate change, though it is still to be seen if they take concrete steps towards that.