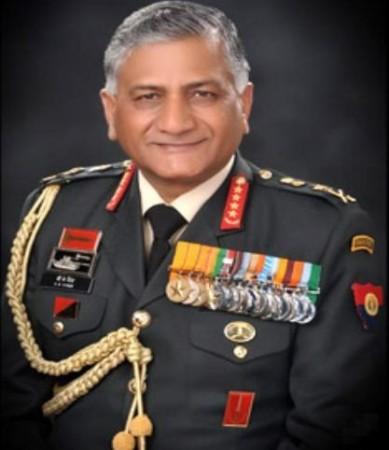 Following the Central Bureau of Investigation's directive to provide more information on the Rs.14-crore bribery allegations he had made in his letter to the intelligence agency last month, Army Chief General VK Singh sent a detailed complaint on Tuesday.
VK Singh claimed that he was offered Rs 14 crore bribe to clear the purchase of 600 sub-standard trucks by an equipment lobbyist, prompting the Defence Ministry to recommend CBI probe into the allegation. The CBI then seek more information and clarification from the Army Chief as he did not mention the amount offered to him as bribe and the name of the person who made the offer.
The CBI has confirmed that the Army Chief has provided the names involved in the bribery but didn't mention other important details.
"Though Singh has given us the name of the person who allegedly offered him bribe, he did not mention the date, time and other important details of that meeting," IBNS quoted a CBI official as saying.
Interestingly, the government and the Army Chief tried to play down the otherwise serious charge by denying any rift between the government and the army.
Amidst the bribery controversy, VK Singh exposed a letter written by Trinamool Congress MP Ambika Banerjee alleging 'procurement scams'.
'The Indian Express' reported that VK Singh had sent a letter written by Ambika Banerjee to the Central Bureau of Investigation (CBI) alleging procurement scams in the Special Frontier Force (SFF). In the letter written in May 2011, the MP called for a probe against Lt General Dalbir Singh Suhag alleging procurement scams when he was SFF Inspector General. He claimed in his letter that there was pay-offs for the purchase of night-vision devices, communication systems, weapons and parachutes. The CBI has confirmed that it has received Ambika Banerjee's letter.
DEFAMATION CASE
Meanwhile, retired Lieutenant General Tejinder Singh had filed a defamation case against VK Singh for dragging his name into the bribery scam. He later moved the Delhi High Court, urging it to clear his name from the controversy.
Tejinder Singh filed a writ petition requesting the High Court to direct the government of India and the Army Chief to clear his name from the press release, which has leveled serious allegations against him.
He also called for action against Vice Chief of Army Staff Lieutenant General S Singh, Lieutenant General BS Thakur (Director General of Military Intelligence), Major General SL Narshiman (Additional Director General of Public Information) and Lieutenant Colonel Hitten Sawhney (Director, Media) for making for allegation, thus abusing their official positions.