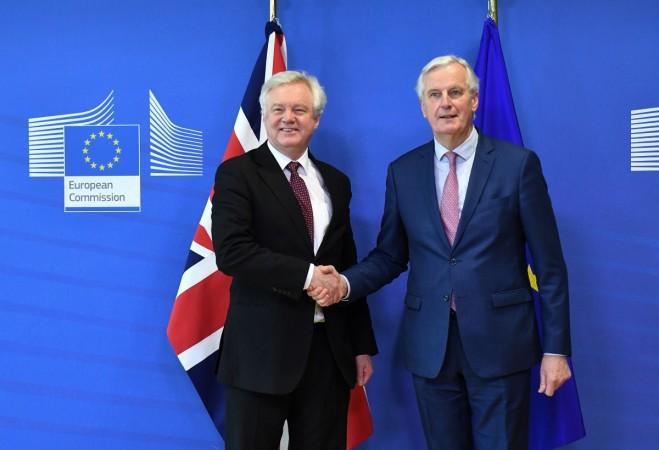 The EU and the UK have reached an agreement in terms of the latter's exit from the bloc
A "backstop" guarantee has been put in place on Ireland as the island will remain in EU's customs union
The deal now awaits the signature of Davis and Barnier
This will be a political commitment and not legally binding
The UK will continue to follow the EU regulations until 2020-end
The European Union has agreed to the United Kingdom's Brexit transition deal, which will come into effect after the UK leaves the bloc in March 2019, reported the Wall Street Journal. However, Ireland remains a bone of contention in the deal and a "backstop" guarantee has been put in place.
The island is a part of the UK as well as the EU and the "backstop" will keep the island a part of the EU's customs union, unless another solution is found.
WSJ sources, familiar with the matter, said that even though a deal may have been reached Monday, March 19, in Brussels, Ireland still remains "an issue" as a border on the island may disturb a two-decade old peace accord.
The deal is now waiting to be signed by Brexit Secretary David Davis and chief EU negotiator Michel Barnier and the European Commission is likely to publish the agreement later Monday. This agreement will be a political commitment and not legally binding, according to Bloomberg. The final legal agreement will be signed early 2019.
Under the agreement reached in Brussels, the UK will continue following all the rules of the EU until the end of 2020. Thereafter, it will not be a part of any of EU's regulations.
Speaking of the agreement Barnier said that this was a big step from the UK and the EU's side, but "not the end of the road."
"We have reached an agreement on the transition period," Barnier told a press conference in Brussels, reported the BBC. "The transition will be of limited duration. The backstop will apply unless, or until, another solution is found."