A day ahead of British Prime Minister Theresa May's maiden visit to India, an Indian lobbying group has said that trade between the two countries are likely to go downhill as a result of the shocking verdict in June this year that saw Britons voting for their exit from the European Union (EU).
"The EU is India's largest trading partner ... but exports from the UK to India have been declining. Now, exports from India to the UK will also decline because you've lost 18 percent of your pound's value. So if I'm sending something to the UK and getting a lower return on it, I'm going to have a think about that. It's a double hit," A Didar Singh, secretary general of Federation of Indian Chambers of Commerce and Industry (Ficci), told the Guardian.
The two-way trade between India and Britain was $14 billion in financial year 2015-16.
May's three-day visit to India, also her first outside the EU since assuming office in June this year, includes an India-UK Technology Summit in New Delhi on Monday to "demonstrate the importance and expanse of science and technology cooperation in the India-UK partnership," according to External Affairs Ministry briefing on her visit.
Besides bilateral talks between Theresa May and her Indian counterpart Narendra Modi, the trade ministers of the two countries — Minister of State for Commerce and Industry Nirmala Sitharaman and the UK Secretary of State for International Trade Liam Fox — will also hold talks under the aegis of the Joint Economic Trade Committee (JETCO).
The country is losing its significance among the Indian student community as well. "From the Indian perspective, the UK is no longer a prime destination," Maria Mathal, a Delhi-based market analyst and recruiter who specialises in international education, told the Guardian.
The number of student visas issued to Indians dropped to 11,000 in 2015 from about 68,000 at the beginning of the decade, according to the daily.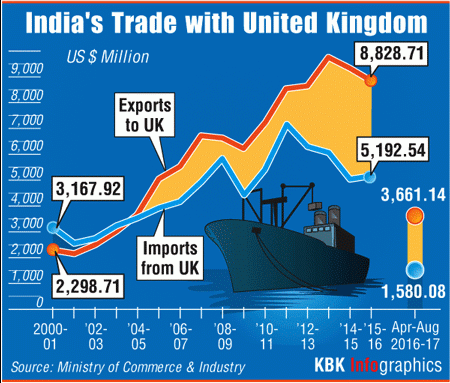 A Ficci survey in July this year of 45 Indian companies spanning sectors such as education, information technology, tyres, steel and steel products, automotive, textiles, apparel and financial services revealed the UK's position of a gateway to Europe and a major investment hub will be impacted in the near-term.
"The increase in uncertainty post Brexit will impact the confidence level of potential investors wanting to invest in the UK," the survey revealed.
Further, about 51 percent of the respondents anticipated a fall in investments to the UK over the next three to five years.
Among business houses, the Tatas have huge business interests in the form of Tata Steel, Jaguar Land Rover and Tata Consultancy Services (TCS).