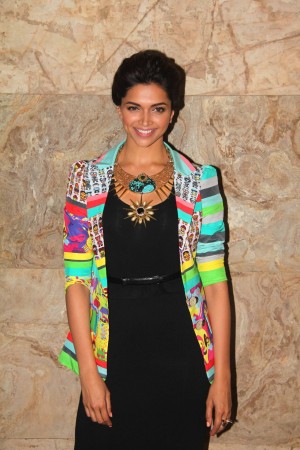 Bollywood diva Deepika Padukone's success streak has provided immense confidence to the actress.
The "Chennai Express" actress was recently present at an event where she spoke at length about her flourishing film career and to everyone's surprise she seemed uninhibited in answering questions pertaining to her personal life.
Padukone had a highly publicised relation with Ranbir Kapoor at an early point of her career but the two later parted ways only to reunite for their super hit film "Yeh Jawaani Hai Deewani."
Speaking on her breakup with Kapoor, the actress comfortably remarked, "Ranbir and I don't live in a movie. Did the breakup affect me? It's not something that has crossed my mind. But moving on has made me a better person, and him too (I can quote him on that)" reported Daily Mail.
Delving further, the beautiful actress admitted that she went through a low phase at that particular point.
"The breakup made me realise I should not be so attached to one thing or a person - after the breakup the fact that I had to pick myself up. I cried a lot after my breakup. But, I have become a better person and I thank him for that," IndiaTV quoted the actress saying.
The actress is presently rumoured to be in relation with her "Ramleela" co-star Ranveer Singh, but when questioned on the same, Padukone came up with a safe reply.
"I think I am in a stage where I don't want to rush into something. For a young girl like me, it's very important to get to know someone, may be it also comes from the fact that I dint want to go through heart ache again and you want to be sure about the person that you eventually land up with," PTI reported the actress saying.
(Edited by Anu James)