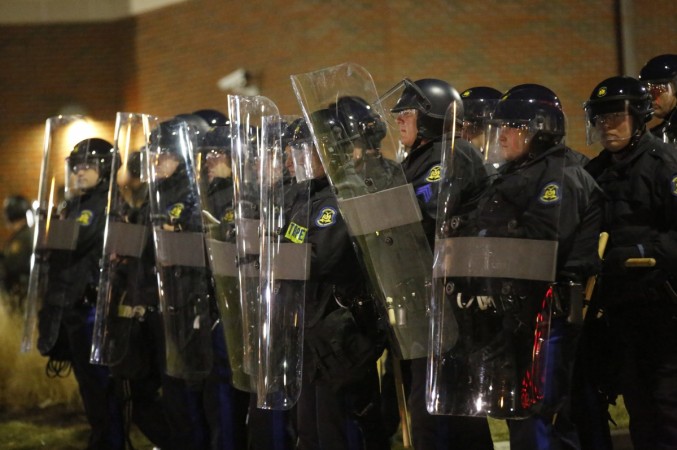 Two police officers were reportedly shot at while attempting to confront protesters outside the Ferguson police station on Thursday. A crowd had gathered outside the Ferguson police department and the two officers, who were trying to disperse the crowd, were shot at by unknown gunmen.
St. Louis Post-Dispatch report citing Ferguson Lt. Col. Al Eickhoff noted that both the officers were not part of the Ferguson station.
Reports have now emerged that one police office got shot in the face and the other in the leg. Social media reports claim that they two 'will live.'
The report stated that one of the officers was from Webster Groves police department, while another was from St. Louis County.
Several local journalists and cameramen were at the scene when the shooting took place. Eyewitnesses claimed that at least two to four shots were fired.
The shooting reportedly took place just as the protesters were leaving the premises. Following this, dozens of Ferguson officers armed with high-powered rifles surrounded the building.
Ferguson Police Officer Shooting Pictures
Police take cover after two cops were shot in front of Ferguson PD on Thursday, March 12, 2015. Pic- @LaurieSkrivan pic.twitter.com/1rTei6bZcn

— Lynden Steele (@manofsteele) March 12, 2015
A wounded officer is put into an ambulance after being shot in front of Ferguson PD on 031215. Pic- @LaurieSkrivan pic.twitter.com/PFOt53plbK — Lynden Steele (@manofsteele) March 12, 2015
Un des policiers serait touché au visage. L'autre à la jambe. (@KMOV) #Ferguson pic.twitter.com/5syRY5rMfD

— Breaking 3.0 (@Breaking3zero) March 12, 2015
Police stand guard after two cops shot in front of Ferguson PD on 031215. Pic- @LaurieSkrivan pic.twitter.com/tRYPieJVWX — Lynden Steele (@manofsteele) March 12, 2015
Watch Ferguson Shooting Video Recorded Live
Related