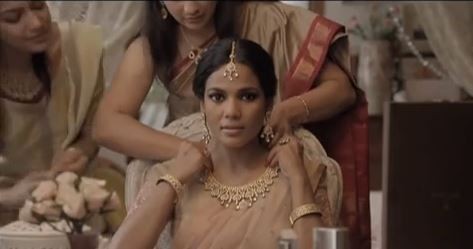 With Dhanteras and Diwali festival around the corner, Indian jewellery brands are coming out with creative and unique television commercials.
Popular jewellers group Tanishq has launched a unique advertisement for wedding jewellery which has garnered much praise from online social circles.
The Lowe Lintas advertisement is directed by Gauri Shinde, who shot to fame with her first directorial film "English Vinglish".
The advertisement, which is themed around remarriage, shows a dusky bride and her young daughter getting ready for the marriage ceremony. The daughter accompanies her mother to the mandap. Later, the young girl insists that she wants to take the saath phere with her mother but is told to keep quiet. On seeing her dejected, the groom carries the little one in his arms and performs the pheras.
Most advertisements show fair brides and in their virginal beauty, but the Tanishq advertisement has broken the stereotype by showcasing a dusky woman and celebrating the idea of remarriage.
"For me this is normal, this is what happens. But when you see remarriage in an advertisement, for the people it is a reassurance of what happens in real life," Gauri Shinde told Economic Times.
"The question I think we asked is why not? I hadn't written the script that was done by Arun Iyer and his team at Lowe, Lintas and Partners, but when they approached me I loved it and jumped at the chance. It was innovative, brave and I thought kudos to the client," Gauri told India Today.
Though many have heaped praises on Tanishq for bringing out a unique advertisement, others have criticised it saying that the concept of remarriage was copied from an old Femina advertisement which featured Manisha Lamba. [Check the Femina advertisement here]
Member of Parliament and industrialist Naveen Jindal praised the Tanishq commerical and tweeted: "A dusky bride with a daughter in an ad?Well done @TanishqJewelry for breaking stereotypes with grace & power #tanishq"
Director Nikhil Advani said, "The new #tanishq commercial is a super step in the right direction. Full marks for saying while selling. Salute!!!"
Check out the video here: