Two people died when an under-construction building collapsed at Kumareshwara Nagar in Karnataka's Dharwad district on Tuesday. Nearly 50 people are trapped under the debris.
Construction work was going on when the tragedy happened. Three JCBs, four fire tenders and 10 ambulances are at the spot.
It is claimed that the plot is owned by Congress leader and former Karnataka minister Vinay Kulkarni's father-in-law Gangadhar Shintre. Basavaraj Nigadi, Gangadhar Shintre and Ravi Sobrad are reported to be the owners of the collapsed building.
The rescue operations were directed by Deputy Commissioner M Deepa, Police Commissioner MN Nagaraj and other senior officials. Dharwad's deputy commissioner of police Nagesh DL said that eight people had been recovered from the debris so far "including dead and alive".
According to media reports, there were four to five shops open at the time of the collapse. It is alleged that substandard materials were used for the construction of the building and the foundation was not very strong.
It is a 60x80 plot where a four-storey building was being constructed. The first and second floors of the building were already rented out. The rescued people are being rushed to a nearby hospital.
Karnataka Chief Minister HD Kumaraswamy expressed his shock over the incident on Twitter. He said that he has instructed the Chief Secretary to supervise rescue operations. He also said that he has directed the CS to send additional resources and expert rescuers by a special flight to Dharwad.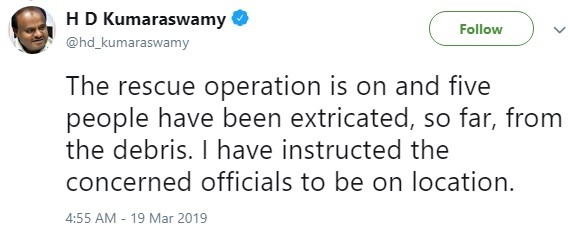 "The rescue operation is on and five people have been extricated, so far, from the debris. I have instructed the concerned officials to be on location", the tweet read.